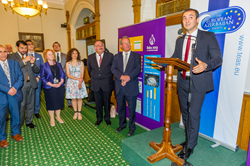 We will see a fantastic Games here in Azerbaijan, and the whole of the world will be watching Baku.
London, UK (PRWEB UK) 4 June 2015
The forthcoming Baku2015 European Games were celebrated during an official reception for around 120 people in the Churchill Room of the UK Parliament on 3 June. Attendees included Baroness Uddin, Lord Addington, Lord Kilclooney, Lord Risby, Lord Foulkes, Lord German, Lord Brookhaven, and the MPs Judith Cummins, Stephen Hammond, Christopher Pincher, Bob Blackman, Roger Godsith, Damien Green, Mike Gapes, together with diplomats, representatives of UK and Azerbaijani sports federations and friends of Azerbaijan. The Games, organised under the auspices of the International Olympic Committee, are scheduled to take place in Baku from 12–28 June. The reception was organised by The European Azerbaijan Society (TEAS) and hosted by Lord Addington.
It is expected that Baku will host more than 6000 athletes from over 50 countries during the Games, competing in more than 20 sporting disciples. Of these, 16 sports will offer qualification opportunities for the Rio2016 Olympic Games.
Tale Heydarov, Chairman and Founder, TEAS, said: "The fact that the first European Games were granted to Azerbaijan proves that the country is worthy to host them. During the past decade, the economic level and infrastructure of my country has developed considerably. Azerbaijani President Ilham Aliyev has chaired the Azerbaijani Olympic Committee for some years, which has given a great boost to the development of sports in Azerbaijan. We are now reaping the fruits of these developments."
In a video address, Simon Clegg, Chief Operating Officer, Baku European Games Operations Committee (BECOG), said: "We have had to compress all that is required to host a Games into just 30 months – this normally takes seven years. This has been an immense undertaking, and resulted in a coming together of both the expat community and the talented people of Azerbaijan. We will deliver a European Games, featuring the best athletes in Europe, which is befitting of their talent and the dynamic country of Azerbaijan. We will see a fantastic Games here in Azerbaijan, and the whole of the world will be watching Baku."
H.E. Tahir Taghizadeh, Azerbaijani Ambassador to the UK, commented: "This is an opportunity to associate the name of Azerbaijan with something that is totally new – the European Games. There will be a lasting legacy in terms of sports facilities, transportation, and infrastructure. Hosting the Games has necessitated the input of a great deal of experience from across Europe, and has served to develop further ties between Azerbaijan and Europe."
Lord Addington commented: "Games are a celebration of sport, and provide a valuable opportunity for the cross-fertilisation of ideas and cultures. Azerbaijan has given a new platform for Games to Europe; this will be a festival of sports, and will be something very special."
Bob Blackman MP, Secretary, Azerbaijan All-Party Parliamentary Group (APPG), explained: "The successful hosting of the Eurovision Song Contest in 2012 demonstrated how Azerbaijan could create world-class facilities in a very short space of time. I have witnessed the development of Azerbaijan, both in Baku and across the country. It is testament to the brilliant work of Azerbaijan that is now ready to host the European Games after a very short period of preparation. No other country could have achieved this, and this demonstrates how quickly the country can construct what is required."
The event concluded with drinks and refreshments.