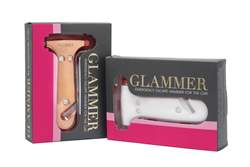 Dallas, Texas (PRWEB) June 03, 2015
blingsting announces their new product, Glammer, a small hammer that fits in a car's glove compartment or can be strapped onto a visor.
The Glammer, an emergency escape tool, features a pointed tip that will allow the user to break a windshield and it has a protected blade that can cut through a seatbelt or carseat strap to protect all passengers.
Highlights of the Glammer include:

Easily break a window or windshield with the pointed hammer tip
Includes a protected blade that can cut through seatbelts to release passengers. 
Fits easily in a glove compartment, or store on your visor with the convenient visor clip.
Available in two colors: rose gold or bright white.
Comes in a premium gift box.
Retail price only $24.
blingsting believes that personal safety protection doesn't have to be boring. The company is committed to adding to their safety product lineup without sacrificing style. Their all new Glammer provides a very useful safety tool for the car, all while looking smashing at the same time.
For samples or additional information, please visit http://www.blingsting.com or contact chelsea(at)chicblvd(dot)com
Contact:
ChicExecs PR
http://www.chicexecs.com
1487 Poinsettia Ave. Ste. 125
Vista, CA 92081
310.569.6586
ChicExecs PR is an "out of the box" PR company which represents over 70 clients. ChicExecs has created an innovative approach to PR dedicated to helping small-medium businesses receive media coverage. Our revolutionary automated system is changing the face of PR. To learn more about ChicExecs visit http://www.chicexecs.com.
If you would rather not receive future communications from Chicblvd Inc, let us know by clicking here.
Chicblvd Inc, 1487 poinsettia ave #125, Vista, CA 92081 United States