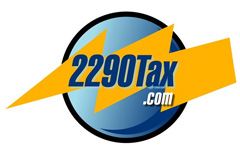 La Verne, CA (PRWEB) June 17, 2015
2290Tax.com, a family-owned company that has been serving the greater trucking community for nearly a century, is offering a special pre-filing service for the 2290 tax form.
The 2290 form is part of the heavy highway vehicle use tax (HHVUT). Any driver that operates a truck weighing over 55,000 pounds, and utilizes public highways on a regular basis, should file a 2290 Form, which is due annually between July and August. The 2290 must also be paid whenever a new truck is purchased by the specific deadline in order to avoid any penalty fees. 2290Tax.com has more information about the HHVUT on their website.
For years, 2290Tax.com has helped truckers correctly prepare their 2290 tax forms. As part of their commitment to assisting truckers with these forms, 2290Tax.com offers a pre-filing service, so that truckers can get a head start on the form before it is due this year.
As one of the few companies that offer this specialized service, 2290Tax.com is dedicated to assisting truckers with their tax needs. Furthermore, the company can help simplify the overall payment procedure with its unique online recordkeeping and e-filing services. 2290Tax.com representatives are also available to provide real-time support to any customers with questions about their taxes.
Since this is an early filing service, truckers don't need to be concerned about receiving their Stamped Schedule 1 forms immediately—all Stamped Schedule 1 forms will be returned after the IRS officially opens e-filing in July. 2290Tax.com is committed to helping its customers with all their Form 2290 needs, and will do everything they can to help. This article has more information on obtaining tags early, before the Form 2290 is released by the IRS.
About 2290Tax.com
2290Tax.com is a family-owned, California-based company that has served the trucking industry for over 80 years; during that time, the company has progressed from helping truckers purchase and register trucks to assisting truckers in correctly preparing and filing complex 2290 tax forms. 2290Tax.com offers customers convenience with services that streamline the tax return and payment process, such as online recordkeeping and e-filing; the company also ensures that customers receive all of the support that they need through online materials and live help from real people on the phone. To learn more about 2290Tax.com, please visit http://www.2290tax.com.