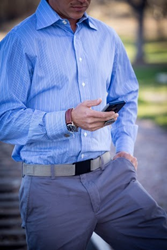 Denver, Colorado (PRWEB) June 03, 2015
MagBelt by Magzook Tightening Systems is now raising funds on Kickstarter.
MagBelt's patent pending sliding magnet system provides a comfortable belt from meetings to mountains. Available in four belt buckle colors, and four belt colors, there are 16 color combos to choose from. The MagBelt can also be used without the buckle for a more minimalist feel.
When Denver resident Devin, the creator of MagBelt, realized that he could use magnets to keep his pants in place during long motorcycle rides, he started wondering what else he could improve with magnets. Not satisfied with current belts on the market that lacked customization and the need to: add extra belt loops, have flap overhang, or deal with messy fraying that comes from cutting the belt - and also losing that extra in case it's needed in the future- he decided to do something about it. He asked his grandma to teach him how to sew on her 1951 Singer sewing machine and armed with an array of magnets and unwavering determination, found a way to turn the standard belt design into an innovative and magnetized option with the MagBelt. With two magnets and one revolutionary idea, Devin created a belt that will fit the waistline with no holes, ratchets, clips, or flap overhang. It's also adjustable, should a person's size fluctuate up or down.
Devin wanted to get the product to market quickly and was looking for a business partner to help him along the way. He met Kyle, who was his passenger on a Lyft ride, showed him the MagBelt, and they soon decided to partner. After deciding to launch the MagBelt on Kickstarter, they knew they'd need a great video and asked Mike to fly down from Seattle and help them out.
MagBelt is a belt that can be worn while socializing at a networking meeting or on the ski slopes.
· Great American made product
· No belt loops, new holes, or messy belt flap overhang
· Versatile color options to accomodate slacks or ski pants
· Easily adjust the size without permanently altering the belt
· Belt will stay in place thanks to the MagBelt sliding magnet system
MagBelt launches their Kickstarter on June 3.
For samples or additional information, please visit http://www.magzook.com or contact chelsea(at)chicexecs.com.
Contact:
ChicExecs PR
http://www.chicexecs.com
1487 Poinsettia Ave. Ste. 125
Vista, CA 92081
310.569.6586
ChicExecs PR is an "out of the box" PR company which represents over 70 clients. ChicExecs has created an innovative approach to PR dedicated to helping small-medium businesses receive media coverage. Our revolutionary automated system is changing the face of PR. To learn more about ChicExecs visit http://www.chicexecs.com.