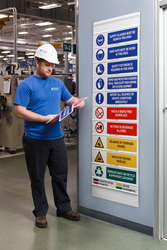 Earning recognition in not one, but two categories is a proud accomplishment for Brady.
MILWAUKEE, Wis. (PRWEB) June 04, 2015
Brady (NYSE:BRC), a global leader in product and facility identification solutions, today announced that it won two ISHN Magazine 2015 Readers' Choice Awards. Its High-Visibility Absorbent Safety Mat won in the "Absorbent" category and its Safety Sign Sliders won in the "Signs, Labels, Tags" category.
"Earning recognition in not one, but two categories is a proud accomplishment for Brady," says Brien Christopherson, global platform director, safety and facility identification for Brady. "The awards are based on the opinions of the readers and these wins are a testament to the hard work our teams put into developing innovative and quality products that meet the needs of our customers."
This High-Visibility Absorbent Safety Mat is for all-purpose industrial applications and it features a yellow caution color and printed message to visually warn workers of potential risks. This mat has the same high absorbency and durability that spans all SPC absorbents, with a three-ply SMM construction (spunbound coverstock with two layers of meltblown polypropylene) and a low linting material that will not react to aggressive fluids.
The Safety Sign Sliders are highly visual message boards that can hold up to 11 interchangeable signs to keep employees and visitors in a facility aware of relevant safety information. These boards are available in four different size options, both in wall-hanging or three-sided, free-standing versions, and offer 80 stock messages or customized messaging options. The boards are made out of durable materials to stand up to the daily rigors of the workplace and can be customized with a company name or logo at the top.
The third annual ISHN 2015 Readers' Choice Awards are determined by the online votes of thousands of ISHN subscribers between March 1 and May 1. The awards include 42 different categories with one winner in each category.
For more information:
For Brady's complete product offering, visit BradyID.com.
About Brady Corporation:
Brady Corporation is an international manufacturer and marketer of complete solutions that identify and protect people, products and places. Brady's products help customers increase safety, security, productivity and performance and include high-performance labels, signs, safety devices, printing systems and software. Founded in 1914, the company has a diverse customer base in electronics, telecommunications, manufacturing, electrical, construction, education, medical, aerospace and a variety of other industries. Brady is headquartered in Milwaukee, Wisconsin and as of August 1, 2014, employed approximately 6,400 people in its worldwide businesses. Brady's fiscal 2014 sales were approximately $1.23 billion. Brady stock trades on the New York Stock Exchange under the symbol BRC. More information is available on the Internet at http://www.bradycorp.com.
# # #