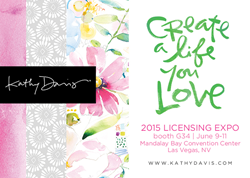 We're really excited about our higher rank this year in the licensing industry, and we're looking forward to showcasing our successes and new art collections at the Licensing Expo
Horsham, PA (PRWEB) June 04, 2015
Kathy Davis will arrive at the Licensing Expo with another feather in its cap. License! Global magazine ranked the Kathy Davis brand #127 among the top 150 licensors in 2015, a jump of six places from its position at #133 in 2014. With sales of $135 million, a 15 percent increase over the prior year, the company is seeking to expand further in the Home, Fashion, Baby, Stationery and Gift segments in 2015, its 25th anniversary year.
"We're honored to be ranked among some really prestigious global entertainment and character brands, along with a handful of designers," says Sarah Van Aken, VP Marketing at Kathy Davis. "This not only reflects the strong partnerships we've developed, but it's also a good indicator for the future. We're looking for additional licensees, and the timing of the Licensing Expo is perfect for us. We've been gaining traction at retail, and we've scheduled celebrations, releases and brand marketing initiatives for our 25th anniversary."
Three new Spring 2016 art collections – Harmony, Alegría, and Seascapes – will be featured at the Expo, each of which comes from Kathy's inspiration and reflects the expressive painting and inspiring messages that epitomize the Kathy Davis brand.
"We're really excited about our higher rank this year in the licensing industry, and we're looking forward to showcasing our successes and new art collections at the Licensing Expo," says Kathy Davis, President and Chief Visionary Officer of the company that bears her name. "We believe there are a lot of new opportunities out there for our art and messaging."
About Kathy Davis Studios
What began over 25 years ago with a handful of greeting cards is becoming a way of life. Kathy Davis has evolved from the core belief that everyone has the right to create a life they love. In pursuit of that vision, we have become valued for the connections we encourage with our expressive painting and inspiring message on products. We are committed to creating meaningful products, fostering a connection and above all, honoring the Kathy Davis passion to "Make Life a Work of Art." Please visit us at http://www.Kathydavis.com