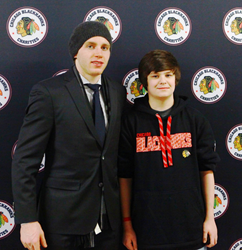 We're so blessed that Nic was able to meet his favorite player and see his favorite team.
Holiday, FL (PRWEB) June 03, 2015
Tonight, the Chicago Blackhawks will face off against the Tampa Bay Lightening in Game 1 of the Stanley Cup Finals. Kids Wish Network knows for sure that one Blackhawks fan will be cheering extra loud for his team and favorite player, Patrick Kane.
Kids Wish Network granted this special fan's wish to meet Kane just a few months ago. Wish Kid Nic Perisho from Iowa has always been an avid hockey fan, and, after a past year of medical struggles, was extremely excited to meet his favorite player.
"We're so blessed that Nic was able to meet his favorite player and see his favorite team," recalls his dad Glenn Perisho. "Especially with what Nic is going through."
Diagnosed with a bicuspid neo-aortic valve at birth, Nic had his first heart surgery at just 5 days old. Thankfully, the surgery was successful and kept Nic healthy for years, up until 2014. Nic's had two heart surgeries in the past year; an unsuccessful one in July, and another in August to replace his faulty valve with a mechanical one.
Besides the fact that Nic will need more surgeries in the future, the biggest concern for the teen was not being able to play hockey anymore. The dedicated athlete excelled at the sport, but now must watch from the sidelines.
But, thanks to Kids Wish Network, Nic's "sideline" experience with the Blackhawks wasn't a disappointment. Watching a live Chicago Blackhawks game and meeting center/right wing Patrick Kane were things Nic had been dreaming of for years.
"It was really fun and exciting," recalls Nic.
And now Nic has more excitement to look forward to as he cheers on Kane and the entire Blackhawks team as they make another trip to the finals. This will be the third time Kane has battled for the cup.
Kids Wish Network would like to again thank Patrick Kane and the Chicago Blackhawks for making Nic's wish come true. Kids Wish Network's mission wouldn't be possible without its Guardian Angel family of generous individuals and businesses who donate their time and resources to help the organization's continued efforts to bring joy and comfort to tens of thousands of children all over the country.
Kids Wish Network is a charitable organization dedicated to infusing hope, creating happy memories, and improving the quality of life for children having experienced life-altering situations. To find out how you can help make dreams come true for deserving kids, please visit http://www.kidswishnetwork.org.