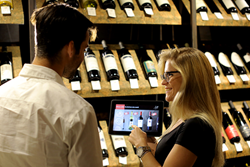 What makes our solution truly unique is our Smart Connection – Gesture Technology - Ariel Haroush
Miami, FL (PRWEB) June 05, 2015
Outform today announced the commercial release of its new iDISPLAY™ Enterprise - Mobile Sales Assistant, an all-in-one, interactive digital display. The iDISPLAY™ Enterprise is an integrated and portable device designed to answer the growing need for associate digital devices at Point of Sale (POS) – devices that drive associate productivity, bridge the in-store and online digital realms and improve customer experience.
The iDISPLAY™ Enterprise is a freestanding digital display that integrates hardware, device management and software as a cost effective solution to attract, engage and inform customers on products & services. With its innovative design and retail-ready, user friendly interface, it can function as a self-service kiosk, digital concierge or mobile POS, anywhere in the store.
"Understanding that many retail IT professionals cite portability as the number one driver for tablet adoption within their organizations, we focused on developing a secure, yet mobile commercial grade solution with iDISPLAY™ Enterprise," stated Ariel Haroush, Outform CEO. "What makes our solution truly unique is our Smart Connection – Gesture Technology, an intelligent docking system that provides secured tablet access, but doesn't require a key. With a simple screen gesture swipe and code, sales associates have uninterrupted access to tablets with influencing product information and no opportunities are lost due to misplaced keys."
The iDISPLAY™ Enterprise Mobile Sales Assistant includes:

Android OS
Multi-touch 10" screen
Wi-Fi
Smart Connection-Gesture Technology for tablet docking and release without key
NFC (Near Field Communication) for device pairing and key docking/release
Comfort grip handle for easy portability
Pulse Device Manager to capture, measure and analyze user analytics, marketing campaigns and sales force effectiveness
Audio jack and multiple ports for extended business applications and mobile POS
Front-facing and web camera
Rotating & locking base
Adjustable screen tilt
Portrait & landscape screen positions
iDISPLAY™ Enterprise | Watch the Video
https://www.youtube.com/watch?v=Pnkybv9jpuo
Like us on Facebook
https://www.facebook.com/Outform
Follow us on Twitter
https://twitter.com/OutformInt
Follow us on LinkedIn
https://www.linkedin.com/company/outform
Follow us on Google Plus
https://plus.google.com/102304443027323882356/posts
About Outform
Outform is a full-service, brand implementation firm that delivers innovation to store environments that both excite and incite shoppers. In addition to our design and manufacturing expertise, Outform incorporates brand, shopper and retailer insights into state of the art technologies at shelf. Specializing in both complex retail executions and in retail-ready interactive kiosks, Outform creates engaging, disruptive displays that strengthen brand image and drive sales.