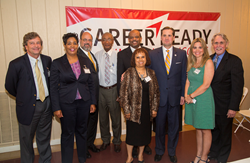 The award provides funding for training for Haywood County residents to obtain an ACT National Career Readiness Certificate.
Brownsville, Tennessee (PRWEB) June 03, 2015
Career Ready - Find Your Success announced a $50,000 workforce award funded by the Delta Regional Authority for Haywood County on Tuesday, June 2, at a noon luncheon. Chris Masingill, Federal Co-Chairman of the Delta Regional Authority, discussed the local investment — made through the DRA's Reimagining the Delta Workforce initiative — and how it will be used to develop Haywood County's workforce.
The award provides funding for training for Haywood County residents to obtain an ACT National Career Readiness Certificate. The NCRC is recognized by thousands of employers nationwide — and by more than 100 employers in west Tennessee — as evidence that applicants have the appropriate knowledge, skills and abilities to be successful in their jobs. Training will begin this fall throughout Haywood County in multiple locations, including libraries, churches, Haywood High School and the Tennessee College of Applied Technology.
Masingill, who addressed Haywood County community leaders on Tuesday, applauded the local efforts to connect Haywood County workers to the skills they need to obtain and attract good jobs and economic development to the region. He further encouraged local ministers and elected officials to encourage community participation in the training. While at the Delta Regional Authority, Masingill has placed a strong emphasis on supporting small businesses and entrepreneurs as well as investing in local and regional workforce development and training efforts.
Career Ready - Find Your Success prepares individuals in the Haywood County labor force for jobs in existing and future businesses and industries, including the Memphis Regional Megasite. It seeks to improve the quality of job applicants, market the megasite and other industrial sites and help Haywood County grow.
All Haywood County residents are eligible to attend the training. Those interested should contact Allan Sterbinsky, Mayor of Stanton (731-548-2565), or Career Ready recruiters: Gwen Gavin (980-522-7724), Linda Jones (731-548-6182) or Hayden Hooper (731-432-9495).
About the Delta Regional Authority
The Delta Regional Authority is a federal-state partnership that is congressionally mandated to help create jobs, build communities and improve lives through strategic investments in economic development in the 252 counties and parishes of the Delta region. Through the past 13 investment cycles of the DRA's States Economic Development Assistance Program, DRA investments have leveraged $2.7 billion in other public and private investment into DRA projects that are helping to create and retain 42,000 jobs, train 13,000 for a 21st century workforce, and provide more than 82,000 families access to clean water and sewer services. To learn more about the DRA, visit dra.gov.