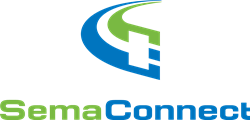 "This application reflects SemaConnect's commitment to being on the cutting edge of technology"
Washington, DC. (PRWEB) June 09, 2015
June 9, 2015. - SemaConnect Inc., the North American leader in "Class A" commercial electric vehicle charging solutions, has announced the release of an app designed to work with the upcoming Apple Watch. Specifically created to optimize the EV driver's ability to easily find, monitor and communicate with EV charging stations, the app will enhance the EV-driver experience in using SemaConnect's smart EV charging stations at home, at work, or at a wide variety of public parking locations throughout North America.
SemaConnect's Apple Watch app is the second of the charging station manufacturer's wearable technology applications, which also includes an app for Google Glass. Compatible with the Apple Watch platform, SemaConnect's new app will allow users to simply glance down at their wrist to find stations based on their GPS location, pay for sessions via the SemaConnect Network, and track the status of charging sessions while away from their vehicles.
"This application reflects SemaConnect's commitment to being on the cutting edge of technology," said Lead Software Engineer, Roman Stanchak. "Our iPhone application is a key addition to our SemaConnect Network, and we strive to continue developing solutions that enhance user experience and complement the emerging technology that our drivers are excited to use". The app will be available as a free download on all Apple Watches. The Apple Watch will be available for purchase in stores in June, 2015.
To download the SemaConnect iPhone or Apple Watch app:
https://itunes.apple.com/us/app/semaconnect/id471861561?mt=8.
About SemaConnect:
SemaConnect is the leading provider of electric vehicle amenities to the North American commercial and residential property markets. A complete EV support partner, SemaConnect delivers a truly modern property experience through innovative, elegantly designed charging stations and a robust and open network. The company has helped maximize property value and appeal through thousands of successful Class A deployments since its founding in 2008, for companies like CBRE, JLL, Heinz, Greystar, Cisco Data systems, and Standard Parking. SemaConnect remains the preferred charging solutions partner to municipal, parking, multifamily, hotel, office and retail customers across the United States and Canada. For more information, visit http://www.semaconnect.com.