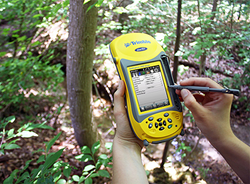 Richmond, VA (PRWEB) June 04, 2015
Timmons Group, a leader in civil engineering and technology services, announced today the selling of their mobile product, WetCollect™, to Electronic Data Solutions® (Elecdata®), one of the largest field data equipment and solution providers in the United States. Built as a solution for collecting data in the field, WetCollect™ is a next generation, hosted software solution designed to expedite and process Army Corps of Engineers (ACOE) Wetland Determination Forms.
WetCollect™ allows wetland delineators to access 10 Regional Supplements defined by the 1987 ACOE Wetland Delineation Manual. Based on the location of the user, regionalized information including vegetation, hydrology, and hydric soil indicators will populate the handheld form, enhancing efficiency and accuracy in reporting. The product was developed to run on a Windows mobile hand-held device and features a highly intuitive, touch screen interface.
"WetCollect™ is a product we believe in and will continue to use as a firm," said Chris Dodson, Director of Field Services at Timmons Group. "We created the product to reduce reporting time by more than 50% in the field. With the use of WetCollect™, users can digitally record wetland data, which eliminates hand written notes and typed reports."
The product was created by Timmons Group's geospatial division. Other notable projects include mobile and web-based applications, such as Forest Activity Electronic Notification and Reporting System (FERNS) for the Oregon Department of Forestry; MoDOT Traveler Information application for the Missouri Department of Transportation; and the mobile data collection and field-based mapping application for Prince William County.
"We are excited to add WetCollect™ to our software solutions portfolio," said Linda Glover, Co-Owner of Elecdata. "With our wetland delineation experience and award winning support team, we expect a smooth transition for users."
Elecdata has developed and supported many mobile and web-based applications, including DataPlus® application generator for Windows Mobile and Window 7/8 devices; Esri-based FieldSeeker and Sentinel GIS software, used at mosquito control districts across the United States and Canada; and log scaling software, used by many wood product companies and scaling bureaus in the West.
About Timmons Group
Timmons Group is a multi-disciplined engineering and technology firm recognized for nearly twenty years as one of Engineering News Record's (ENR) Top 500 Design Firms in the country. The firm provides economic development, civil engineering, environmental, GIS/geospatial technology, landscape architecture and surveying services to a diverse client base. Headquartered in Richmond, Virginia, Timmons Group has regional offices across the United States. For more information, visit http://www.timmons.com.
About Elecdata
Elecdata is an Esri Gold Partner and has built its reputation by supplying quality instrumentation and unparalleled customer support for field data collection solutions during the last 29 years. They provide solutions for a wide variety of applications including mosquito/vector control, transportation, weed control, forestry and natural resources, utilities, environmental (landfills), local government, and oil and gas management. For more information, visit http://www.elecdata.com.