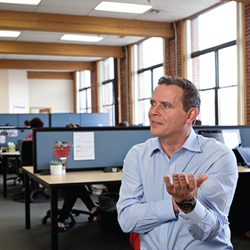 Schools need a strong digital brand if they expect to meet their enrollment goals
Andover, MA (PRWEB) June 04, 2015
Digital marketing expert and president of Effective Student Marketing, Andy Kelley, shares his insight in his recent article for Career Education Review: "How to Advertise on Social Media to Build School Brand." Acknowledging that a school's brand and its good reputation help to attract students, Kelley explains that schools today need a strong digital brand if they expect to meet their enrollment goals.
According to Kelley, "how institutions of higher education build brand loyalty among their next generation of students can spell the difference between long-term success or eventual failure." Kelley writes that more than half of Millennials consider themselves brand loyal and that almost 40 percent believe that brands that do not advertise through mobile channels, smartphones, and tablets are "outdated and undesirable." More importantly for the digital advertiser, Kelley cites a study that found that more than 30 percent of respondents believe social media advertising lends the most credibility to influencing their brand decisions.
Kelley says that virtually all schools understand the necessity of having a web presence, but that many of them go about it all wrong. "They either jump in without a game plan and make mistakes that can seriously harm their brand image," writes Kelley, "or have such a minimal digital footprint that they send a message of apathy; certainly not the kind of branding that will convince prospective students to enroll."
The article gives pointed instructions on how institutions of higher education can build their brand through their digital presence and the advertising they do on social media platforms such as Facebook, Twitter, and Pinterest:

Identify the school's unique brand
Set realistic and measurable goals
Know the target audience
Produce and repurpose content
Brand everything
Know the platforms
Leverage digital advertising to its full potential
Measure the results
Kelley discusses the power of digital advertising and pays particular attention to the tracking and analysis available to schools. He says that schools can target an audience with great accuracy and then measure the results of individual campaigns and their overall digital marketing strategy.
Noting that "social media advertising is a powerful, effective and necessary tool for any institution targeting students in 2015 and beyond," Kelley also warns that institutions of higher education which do not embrace its potential "will not remain relevant and competitive with a demographic that is always online." To read the full article, download a copy of "How to Advertise on Social Media to Build School Brand" now.
About Effective Student Marketing:
Effective Student Marketing is a digital marketing agency and Google Partner that embraces transparency and results-oriented marketing. It integrates marketing strategies that use social media marketing, paid search advertising, and content creation to help institutions of higher education engage with students, graduates and future students to achieve their student enrollment and retention goals. Andy Kelley founded the company in 2004 and he and his team have a "we'll figure it out" philosophy that combines creativity and technology to stay on top of the latest tactics and trends in the digital marketing industry for higher education. More information about their services is available at: Effectivestudentmarketing.com