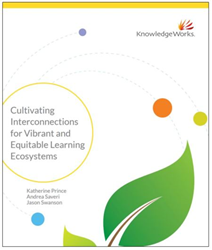 To ensure all students have personalized, vibrant learning opportunities, we need to foster connections and diverse educational opportunities throughout communities.
(PRWEB) June 04, 2015
For the future of education to provide equitable, vibrant environments where every child succeeds, there needs to be a greater focus on the kids most at risk, including those in poor rural areas and juvenile prisons.
But today, only about 64 percent of rural students pursue postsecondary education. And a survey of educational offerings for juveniles in adult prisons found that only 60 percent offer some kind of learning opportunity for youth, highlighting how there's more work to do to build an equitable system.
A new KnowledgeWorks paper explores how to build truly equitable learning environments for all students, regardless of zip code, background or income bracket.
"As we look at the future of learning 10 years out and think about ways the learning ecosystem is expanding, we see great potential to create radically personalized learning environments that promise to be vibrant for all young people," said KnowledgeWorks Senior Director of Strategic Foresight Katherine Prince, who co-authored the paper. "But a critical uncertainty is whether those learning ecosystems will be vibrant for everybody or only for learners with means."
Throughout the paper, "Cultivating Interconnections for Vibrant and Equitable Learning Ecosystems," Prince and co-authors Jason Swanson and Andrea Saveri focus on four high-need areas: low-income urban neighborhoods, disrupted suburbs, low-income rural communities and incarcerated settings. They highlight the potential to foster connections among various education partners, providers and stakeholders to create vibrant learning ecosystems that offer all learners the resources they need.
For example, in an incarcerated setting, learners may not be able to access resources or learning materials to help prepare for life outside prison. The Five Keys Charter School in San Francisco, which the paper explores as a signal of change, operates within a correctional facility to support the education of inmates. By connecting resources and leveraging community partners and providers, it gives learners a better chance of successfully re-entering society after their release.
"These learners are in the most restrictive setting you could think of," said Swanson, who is the director of strategic foresight at KnowledgeWorks. "There are constraints with learning materials and resources, but the biggest constraint is the societal narrative that tells people that prison is a place for punishment rather than education. Countering that narrative, it's a broader societal good that we educate these learners, which, in turn, helps prepare them to re-enter society."
To help all learners succeed, change is needed throughout the education system. KnowledgeWorks advocates for creating innovative policies that eliminate seat time restrictions, set standards of learning to help provide common goals, and enable new compensation structures appropriate to traditional educators and expanded learning agent roles.
In addition, new data-sharing mechanisms are necessary to create learning ecosystems centered on personalized learning, and alternative funding structures are needed to support all learners in accessing the right experiences and supports.
"Education initiatives can't work in silos any longer," KnowledgeWorks President and CEO Judy Peppler said. "This is clear through our community work with StriveTogether, and it becomes even more obvious through our strategic foresight work. To ensure all students have personalized, vibrant learning opportunities, we need to foster connections and diverse educational opportunities throughout communities."
Prince and Swanson will explore the paper during a #FutureEd Twitter chat at 1 p.m. ET on June 5.