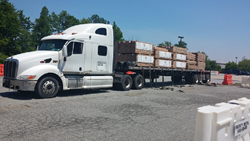 "I figured, we have a big facility here. Maybe we could help out with the space," - Luke Mulholland, owner of Priority Rental.
Conshohocken, PA (PRWEB) June 04, 2015
Philadelphia Floor Store (PFS), a leading hardwood flooring supplier, has made monumental progress since suffering a devastating fire on May 17th that leveled their headquarters in Conshohocken, PA. The company immediately decided to rebuild, and has committed to come back bigger, better and stronger than ever.
In just a little over two weeks, Philly Floor has set up a temporary command center in Boothwyn, PA where the principals are hard at work rebuilding the company's systems and processes. Philly Floor is also engaged in daily communication with customers, vendors, suppliers, and the media to keep everyone abreast of all new developments. The most exciting news the Philadelphia Floor Store can report to date, is the acquisition of temporary warehouse space in Marcus Hook, PA.
The timing of the new warehouse space, complete with a loading dock, racks, and plenty of room for inventory, wouldn't have be possible if not for the generosity of local small business owner, Luke Mulholland of Priority Rental in Aston, PA. When Luke saw the news about the fire on television and heard that the company was running its disaster recovery effort from a nearby office in Boothwyn, he reached out to see if he could lend a hand. Priority Rental is only a few short miles from Philly Floor's temporary location.
The news of the fire struck a chord. "We know how tough it is to run a small business and we could not imagine how difficult it would be after a fire," said Luke. So he reached out to ask if his team could help rebuild. "I figured, we have a big facility here. Maybe we could help out with the space," continued Mulholland. He knew it would be difficult for the Floor Store to move forward without space for inventory, so he offered PFS 3,000 square feet of space in his warehouse.
"That call from Luke changed everything," said Mike Galvin, owner and founder of the Philadelphia Floor Store. "We would not be up and running again so quickly if not for his generosity," continued Glavin. The company already received its first new shipment of Aacer flooring on Tuesday of last week, and the following day they saw their first post-fire delivery go out.
The company has received an outpouring of support from those in the hardwood flooring industry. Calls, messages, tweets, posts, and emails have come is from customers, suppliers, friends, and competitors across the country.
"We're extremely grateful to everyone who has expressed their sympathy and sent us words of encouragement. A tragedy like this really brings out the best in people. It's great to know that we've got a wonderful network of people cheering us on," said Joe Glavin, PFS sales manager and co-owner.
Although Philly Floor has temporary warehouse space, counter service will be suspended until they secure a permanent location. Online ordering is also suspended at this time. For phone sales and custom orders, customers can call 800-737-1786.
Mail is being forwarded to the company's temporary headquarters, so all correspondence can be sent to the old address:
Philadelphia Floor Store
1050 Colwell Lane
Building 3
Conshohocken, PA 19428
For additional information and updates on the Philly Floor rebuild, you can visit their Blog, Twitter, and Facebook accounts.
About Philadelphia Floor Store
PFS is a leading provider of unfinished and prefinished hardwood flooring and accessories including stains, finishes, abrasives, flooring tools, and sanding equipment. Family owned and operated, PFS has been serving hardwood flooring contractors for more than 20 years and provides the expertise needed to install and maintain hardwood floors. The company offers all the top name manufactures including, Aacer, Century, Norton, Lagler, 3M, Clarke, Bona, Basic, Primatech, Bostick, and more.
The company's in-house resources include a top-ranked Machine Repair Center, Rental Center, In-house Chemist, and Gym Floor and Wood Floor Consultants. PFS educates customers via personalized service, online training materials, videos, and free events.
For media inquiries, contact Caran Baxter at caran.baxter(at)phillyfloor(dot)com or call 610-940-5757.