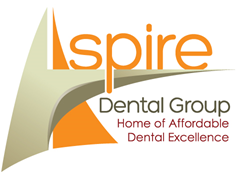 Dentist Lake City, FL (PRWEB) June 10, 2015
Drs. Bob Harvey and Rameek McNair, dentists in Lake City, FL are pleased to announce the renaming of their practice to Aspire Dental Group. In addition, to the name change, the doctors continue to focus their efforts on providing additional patient comfort and advanced dental care. Drs. Harvey and McNair are also currently holding a special, offering an initial exam and necessary x-rays with separate diagnosis visit at a greatly discounted price.
Aspire Dental Group has been practicing dentistry under the name Aspen Dental Group for more than 18 years. Although the practice has a new name, patients who are looking for a friendly dentist in Lake City, FL will still experience the level of personalized care that they are accustomed to receiving from Drs. Harvey and McNair. Patients who require routine dental care as well as those requiring more specialized laser procedures are invited to receive the treatment they need from Aspire Dental Group.
In addition to changing their practice name, Drs. Harvey and McNair have a modern facility and recently added a cutting-edge dental technology, including an innovative laser and a comprehensive in-house crown and bridge laboratory. Currently only one percent of private dental practices are privileged to have a dental ceramist on staff and only 15 percent of nationwide price dental offices practice laser dentistry. These additions of an in-house crown and bridge lab and laser technology allow Aspire Dental Group to provide their patients with improved quality for a variety of dental services. In some cases, patients may be able to saves hundreds of dollars on their dental treatments, thanks to the technology and streamlined processes utilized by Aspire Dental Group.
Patients who are looking for a friendly and personable dentist in Lake City, FL are invited to visit Aspire Dental Group and schedule an appointment with Dr. Harvey and Dr. McNair. Take advantage of their convenient evening and Saturday hours where you may be able to experience a wide variety of other dental treatment and maintenance options, by calling the office during regular business hours.
About the practice
Aspire Dental Group is a general practice offering personalized dental care for patients in Lake City, FL. Drs. Harvey and McNair have a combined 48 years of experience. Both doctors enjoy working with patients and are skilled in a variety of treatment options, providing patients with the best option for them. Both doctors participate in continuing education to ensure that they offer patients the latest techniques in dentistry. To learn more about Aspire Dental Group, please visit their website, http://www.aspiredentallakecity.com or call 386-752-2336 to schedule an appointment.