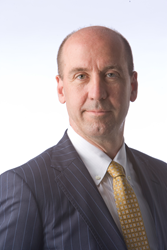 One great way to stay curious about the future, and the opportunity it presents, is to ask new questions about the past.
Minneapolis, MN (PRWEB) June 05, 2015
On Monday, June 8th, Energy Futurist Jack Uldrich will deliver his keynote address "Foresight 2020: Ten Trends Transforming Tomorrow" to the American Public Power Association's 2015 National Conference being held in downtown Minneapolis. The talk will help commemorate the 75th anniversary of APPA.
Uldrich will address how to embrace and navigate the complex trends that will influence the power industry. Uldrich will speak on trends like wearable technology that will to control and automate smart homes to optimize energy efficiency; 3-D manufacturing; mobile computing, which will reduce the need for physical stores; reducing real estate and energy costs; nanotechnology; robotics; sensors; and supercomputers.
A highly acclaimed futurist and public speaker who speaks on such topics as the future of energy efficiency, Uldrich's aim is to help his clients thrive in increasingly competitive energy markets. Uldrich has worked with a number of companies and dozens of trade associations in the utility industry.
Uldrich's keynotes have been delivered at National Fluid Power Association's Annual Conference, North Carolina's Electric Coops, ABB's product launch tour on sensors, the CleaResults Energy Summit, Western Energy Institute, Southern Company, SDG&E, SMUD, Eaton, BP, the National Rural Electric Cooperative Association, Missouri River Energy, Northwest Energy, Idaho Power and the Northeast and Northwest Public Power Associations.
Parties interested in learning more about him, his books, or his speaking availability, as well as Media wishing to know more about either the event or interviewing Uldrich, are encouraged to visit his website.