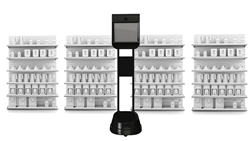 Hertfordshire, UK (PRWEB UK) 4 June 2015
F&F, Tesco PLC's exclusive clothing retailer, and RFSpot today announced a breakthrough solution that will fully automate 'out of stock' processes, enabling store managers to strategically redistribute colleague resources on shopper engagement and services. Featuring the latest robotics, RFID, automation and indoor mapping solutions, the inventive technology initiative promises to transform brick and mortar retail store operations. A process that previously required an average of seven hours, these routines can now be completed in approximately 60 minutes without the assistance of a member of staff. This will allow F&F to extract, analyze and understand highly relevant layers of data and intelligence across each store. Trials are being completed in a selection of F&F stores to establish and refine all use cases.
"For Tesco, F&F or any other retailer, on-shelf availability of products is of key importance," says Richard Collins, CEO of F&F. "It's exciting to be pioneering this technology with RFSpot, firstly to see how we can use it within F&F to enhance our customer shopping experience, and also to clearly understand where we can use this within the rest of the store. The opportunities are endless, and with the RFSpot team, we hope to continue to develop solutions that will be helpful across retail."
The technology initiative between F&F and RFSpot will provide colleagues, managers and executives with a wealth of near real-time data about the indoor retailer environment, such as shelf conditions, product locations, and product availability – the foundation for a true omni-channel experience. By regularly and automatically indexing stock as it moves in and out of retail locations, managers will be able to reduce clutter and vastly reduce wasteful spending associated with cumbersome, imprecise inventory management. Most importantly, it will enable colleagues to spend less time with data capture tasks and more time supporting shoppers with their buying decisions.
"People are at the core of all great businesses," said Andrew Gold, CEO of RFSpot, "In the future, it is our vision that all stores will automate mundane routines such as stock takes and out of stock detection so colleagues can focus on working with the customer and improving shopper satisfaction. Customer support is becoming an increasingly important part of each customer's shopping trip. Today with F&F we have taken an industry defining leap towards a future focused on helping, communicating, and connecting with the modern shopper."
A selection of key F&F departments began using RFSpot's revolutionary technology after several months of testing. The equipment collects and updates product information on inventory multiple times per week with the capability of being utilized continuously. Katherine Isle, Program Manager of operational change at F&F said, "Initial engagement has been extremely positive within our stores. As a result, our store colleagues have welcomed this new technology and are excited about the future."
F&F's RFID project manager Danielle Dawson has noted, "With today's advancements in technology, we have the ability to create a more engaging environment for our customers and streamline our business process by transitioning towards a just-in-time supply chain." The ability to measure on-shelf demand ensures the F&F supply chain can deliver the exact stock required, giving customers the confidence of knowing that the products they expect to see will be available in-store.
About F&F
F&F is owned and operated by Tesco Stores Limited. Established in 2001, F&F is an International Fashion Brand, which is exclusive to Tesco, and sold through Tesco's retail and online formats through the UK and Europe. The brand includes tailoring, knitwear, occasion wear, footwear, accessories and essentials. F&F aims to be the world's leading affordable fashion brand, surprising and delighting customers with of the moment, trend driven fashion alongside quality and ethical sourcing. To learn more, please visit http://www.clothingattesco.com.
About RFSpot
RFSpot is a venture-financed software company headquartered in California with offices in Los Altos, California and the UK. Using its automated software platform and cloud processing services, RFSpot collects data relating to indoor spaces, their geography and their contents. The data is then stored, analyzed, and provided for further analysis allowing retailers and facility owners to map their interior spaces and then to track and manage their assets, inventory and facilities.
To learn more about RFSpot's automated indoor mapping, RFID and smart content solutions, please visit http://www.rfspot.com