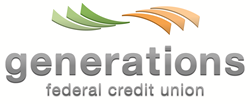 The Future Leader Scholarship program supports students whose service and dedication to our community will continue for years to come.
San Antonio, TX (PRWEB) June 04, 2015
Generations Federal Credit Union has announced the ten winners of its 2015 Future Leader Scholarship program. Each of the recipients from across the community will receive $1,250 for tuition and education-related expenses for their higher education pursuits.
The 2015 Future Leader Scholarship recipients are: Brianna Love (Cornerstone Christian Schools), Mark Resendez (Central Catholic High School), Larissa Neaves (Cornerstone Christian Schools), Ashley Dominiguez (Churchill High School), Antonio Carreon II (Brackenridge High School), Monica Ruiz (University of the Incarnate Word), Miguel Olivares, Jr. (Northwest Vista College), Sunday Whited (Palo Alto College), Luisa Arellano (University of Texas Health Science Center), and Analisa Jimenez (New Braunfels High School).
The Generations Federal Credit Union Future Leader Scholarship is designed to recognize students whose activities, whether in-school or extracurricular, better the community and citizenship of San Antonio and its surrounding areas.
"For 75 years, Generations has a strong history of giving back to our community. We wanted the Future Leader Scholarship program to support students who, through their education and talents, will continue this tradition of service and dedication to our community," said Steve Schipull, CEO of Generations FCU. "These students are bright, motivated, and driven, and they are a great testament to the kind of leaders we can expect to guide our community to a bright future."
This is the seventh year Generations FCU has awarded the Future Leader Scholarships. Applicants can be graduating high school seniors, current undergraduate students, doctoral, post-doctoral, and/or continuing education trade school and vocational students. The scholarships may be used for any educational or educational-related expenses the student may incur. Generations will begin accepting applications for the 2016 Future Leaders Scholarship program in the fall.