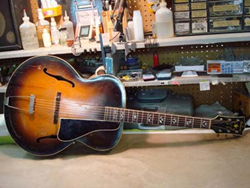 "How about this deal, everything you gave Joe and I over the course of 20, 25 years, we're going to make sure people see, touch and get to play your things after you pass away." Les Looked at them, he took his glasses off, smiled and said, "That's a deal.
Mahwah, NJ (PRWEB) June 08, 2015
Born Lester Polsfuss on June 9, 1915, Les Paul is most widely known for his work as an American jazz and blues guitarist, as well as songwriter, luthier and inventor. He was one of the pioneers of the solid-body electric guitar, laying the foundation of rock and roll music for years to come.
Read the full exclusive American Musical Supply interviews here.
Jim Wysocki first met Les when he was just a teenager, working a desk job at the local Mahwah police station. Les needed a hand shoveling his driveway and Jim volunteered to help out after his shift, stating, "I didn't know who Les Paul was from the janitor down the hall."
Les was a kind and generous man, 66 years old at the time, he took to Jim immediately and a budding friendship quickly surfaced. Jim would visit him regularly to help out around the house, shoot the breeze or assist Les in whatever projects he happened to be immersing himself in at the time. Over the years, Les had given Jim a number of vintage guitars, electronics and recordings, always telling him, "Put these under your bed for a rainy day."
Before Les passed in 2009, he and Jim discussed what would happen to all of Les' gear, Les being concerned that his guitars would fall into the wrong hands of people just looking to make a quick buck. Jim made a promise to Les that he wouldn't let that happen. Keeping true to his word, Jim opened a museum in Mahwah, NJ for these priceless mementos, allowing anyone who wishes to touch, hold and Play Les' gear.
To celebrate Guitar Month at AMS, Jim was gracious enough to share some of Les' iconic gear and timeless stories with us— we hope you enjoy them as much as we did.