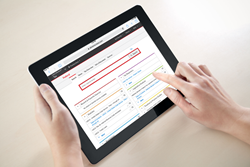 Advance Tax gives tax professionals the confidence to deliver by relying on current industry news and a vast collection of federal, state and international authorities in one convenient platform—a combination you can't find anywhere else.
New York, NY (PRWEB) June 04, 2015
LexisNexis® Legal & Professional today announced the release of Lexis Advance® Tax, a specialized research portal providing comprehensive, authoritative legal information, current news, and analysis to tax and estates attorneys, accountants, government tax professionals and other tax practitioners. The unique resource combines an exclusive collection of primary law, leading treatises and top industry news in a customizable, easy-to-use interface designed to help users gain insights and stay current so they can develop sound advice and strategies for their organizations, colleagues and clients.
Lexis Advance Tax provides facts and analysis for the most pertinent matters practitioners handle every day, from tax litigation, corporate reorganization, and structuring new business entities to designing estate plans or managing an organization's tax compliance. Designed by tax professionals for tax professionals, Lexis Advance Tax combines nearly 1,400 authoritative tax, accounting and estates-practice sources with state-of-the art tools and functionality that puts the most crucial information at practitioners' fingertips in ways that fit their day-to-day workflow.
"Getting tax ramifications right every time is absolutely vital for a tax practitioner's success," said Sean Fitzpatrick, managing director of the North American Research Solutions business at LexisNexis. "Lexis Advance Tax gives them the confidence to deliver by relying on current industry news and a vast collection of federal, state and international authorities in one convenient platform—a combination you can't find anywhere else."
By choosing from three specialized Lexis Advance Tax home page options—federal, state or U.S. international—tax practitioners can begin their work with the most relevant authorities, related news and their favorite sources that correspond to their specific areas of focus. Users also have the option to simplify their tax research by conducting a single search across multiple resources, including cases, codes, regulations, tax analysis and commentary, tax news, and other information related to their matter.
A dedicated tab brings together the latest industry news including Tax Analysts®, the nation's leading tax news provider, drawing from Tax Notes Today®, State Tax Today® and Worldwide Tax Daily®. Users with separate subscriptions to tax news from CCH® and Law360® can access those sources on the tab as well. Users may also set up individual alerts to receive email updates on a particular tax issue or choose a daily email service with top headlines.
The exclusive Lexis® Tax Advisor—Federal Code Reporter allows practitioners to research and apply the Internal Revenue Code, easily retrieving the text of each code section along with its Treasury regulations, legislative history, case annotations, explanations, news, as well as Shepard's® verification.
Lexis Advance Tax users also have access to a broad collection of authoritative insights: They may consult federal, state and international tax treatises from Matthew Bender®, including Federal Income Taxation of Corporations Filing Consolidated Returns; Rhoades & Langer and Heckerling Institute on Estate Planning, as well as state-specific estates practice treatises, practice guides and form sets.
What's more, Lexis Advance Tax includes Shepard's Citations Service®, a LexisNexis exclusive, with comprehensive coverage of U.S. and state court cases, statutes, regulations, and IRS sources, along with decisions from state revenue departments and other tax authorities.
Lexis Advance Tax is designed responsively for a unified user experience across laptops, desktops, tablets, smartphones and handheld wireless devices, and results may be shared with colleagues in convenient folders or accessed in a user's research history. With a fixed subscription fee, Lexis Advance Tax keeps users on budget.
The introduction of Lexis Advance Tax follows on the heels of the launch of the first Lexis Advance® Practice Pages, part of the continuous commitment of LexisNexis to provide its customers with resources that embed information and tools directly in practitioners' workflow.
Learn more by visiting the Lexis Advance Tax page at lexisnexis.com/tax. Screen shots can be downloaded from the LexisNexis media portal at lexisnexis.com/media or click here.