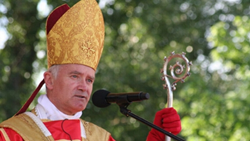 In itself mercy is a word that is dear to the heart of every Catholic, because it designates the most touching manifestation of God's love for us...
Platte City, Missouri (PRWEB) June 04, 2015
The U.S. District of the Society of St. Pius X (SSPX) has just announced on its website (SSPX.ORG) the publication of a new Superior General's Letter by Bishop Bernard Fellay.
In his letter #84 of May 2015, Bishop Fellay focuses on the topic of mercy—coinciding with Pope Francis' recently declared Year of Mercy—explaining that true mercy must be accompanied by sincere repentance from sin:
"In itself mercy is a word that is dear to the heart of every Catholic, because it designates the most touching manifestation of God's love for us...
Nevertheless true mercy, which implies this initial, extremely touching movement of God toward the sinner and His misery, continues in a moment of the creature's conversion to God: 'God desires not the death of the wicked, but that the wicked turn from his way and live' (cf. Ezek 33:11). Hence the Gospels insist on the duty of conversion, renunciation and penance. Our Lord went so far as to say: 'Unless you do penance, you shall all perish' (cf. Lk 13:5)."
Bishop Fellay continues his letter by raising the alarm of how the true notion of mercy is being replaced in the Catholic Church with a new one that does not require repentance in order to give "a new spirit to the conciliar reforms" of Vatican II:
"Preaching a sort of mercy without the necessary conversion of poor sinners would be a message devoid of meaning for heaven, a diabolical trap that would tranquilize the world in its folly and its increasingly open rebellion against God, whereas heaven is quite positive about it: 'God is not mocked' (Gal 6:7)."
The Society's Superior General further emphasized that the necessary discernment between a one-sided mercy and true mercy is especially important in the context of the coming Holy Year of Mercy, which should invite souls to a complete conversion and rejection of sin. Likewise, our prayers and penances during the Holy Year must be an answer to the request of the Sorrowful and Immaculate Heart of Mary at Fatima, whose centenary will be celebrated in 2017.
To help obtain Our Lady's request made at Fatima, Portugal in 1917:
"We will prepare for the centennial of the apparitions of Our Lady in Fatima by practicing devotion to her Sorrowful and Immaculate Heart and propagating it with all our strength, as she demanded. We will keep begging that her requests, particularly the consecration of Russia, will at last be properly carried out."
In relation to Bishop Fellay's announcement, the Society of St. Pius X's U.S. District launched its nationwide Fatima Apostolate on March 25, 2015 (Feast of the Annunciation to the Blessed Virgin Mary).
The chief element of this project is a special Pilgrim Statue that over the next three years will travel to all of the Society's chapels and other places of association. The statue is being transported over America's highways in a custom-built trailer which gives visual prominence to the apostolate.
Hopefully this effort of the U.S. District will help to contribute to the desire of Bishop Fellay for the priestly society as a whole:
"And in this way we will offer as well as possible our collaboration with the merciful will of God to save all people of good will."
The entire letter of Bishop Fellay may be read at the U.S. District's website, sspx.org.