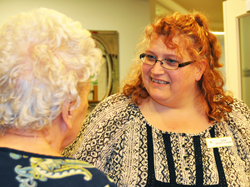 To put it bluntly, you have a brain. You could be affected.
BRYAN, Texas (PRWEB) June 05, 2015
Lisa Lee has a boundless passion for working with seniors. She also possesses an in-depth knowledge of the diseases that rob people of memory and ability, and she wants everyone to learn about them.
"To put it bluntly, you have a brain. You could be affected," she says. "And chances are good that someone in your family is affected, or you know someone who is affected by Alzheimer's disease or dementia."
As the Life Enrichment Director for the memory support center at MRC Crestview Retirement Community, Lee sees the impact of memory loss on individuals and families every day. She sums up the main reason to learn about memory problems in three words: "People judge incorrectly."
Alzheimer's disease and dementia affect more than just memory. Personality changes also occur. Emotional instability increases, and behaviors often become repetitive and obsessive. Because the changes usually occur slowly over time, family members can fail to recognize memory loss as the underlying cause.
"Family members don't know how to deal with the changes, or relate to their loved one anymore. Change is hard for people with memory problems. And reasoning with them is almost impossible.
Alzheimer's can't be cured. It can't be stopped. It can't be slowed. And it's now in the Top 10 of diagnoses in the country," says Lee.
In Texas alone, more than 340,000 people now live with Alzheimer's disease or dementia. Nearly one in three die from it, making memory loss the sixth leading cause of death in the state. Two thirds of those suffering with Alzheimer's are women, and 34 percent are age 65 or older.
Since the average life expectancy after diagnosis of Alzheimer's is ten years, the need for care can place tremendous burdens on the family. More than half of primary caregivers are taking care of parents. In 2014, this unpaid care required an estimated 17.9 billion hours in the U.S.
In terms of dollars the Alzheimer's Association estimated that, in 2014, the unpaid care provided by family members totaled more than $217 million. And the associated stress of providing care added a staggering $9.7 billion in additional health care costs needed to treat caregivers for various stress-related illnesses.
For those that choose to find help, the decision to place a loved one in a care center can be gut wrenching, and the process of finding one bewildering.
"Some families torment themselves about how to handle it, and they often feel guilty about giving up the responsibility for care. Others feel relieved to finally have help," says Lee.
Either way, Lee advises those looking at placement options to visit during normal business hours and look at the entire community, not just the memory center. Taste the food and check the activity calendar, she advises. It's also important to observe the interactions between staff and residents. After the loved one moves in, Lee says it's a good idea to visit at different times of the day.
The cost of care prevents many families from placing loved ones in memory centers. Most take private pay and veteran's benefits, but not Medicaid. This makes the need for long-term care insurance a must, particularly for those with a family history of memory problems.
Researchers are looking for new treatments to alter the course of Alzheimer's, and again Lee's passion for helping those with the disease has led her to chair the local Walk for Alzheimer's fundraiser for the past two years.
"We have an aging population," she says. "More facts need to be known by more people. It's a constant, ongoing need."
To learn the facts about Alzheimer's disease and dementia, including the symptoms, visit Alzheimers Association.
# # #
About Crestview and MRC: Crestview Healthy Living Community is a member of the Methodist Retirement Communities, a leading non-profit, faith-based system of 10 "healthy living" communities spanning across six Texas locations. With a Christian heritage of serving seniors dating back to 1962, MRC has over 50 years of residential senior living and health care experience. Services include independent living, assisted living, certified memory support, skilled nursing, rehab and home health. MRC is listed among LeadingAge/Ziegler top 100 systems in the country. For more information visit http://www.mrcaff.org.