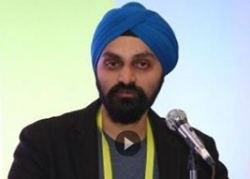 All of these trends are huge; but... few business models use an all-of-the-above approach.
New York, New York (PRWEB) June 08, 2015
TalkLocal co-founder Manpreet Singh will discuss opportunities in high-growth technology industries on June 10 at an internet investor's conference at NYC's Penn Club. Singh has recently delivered talks on the local services tech space at the Pacific Crest Technology Summit; this Friday, he will also speak at the BIA/Kelsey Now conference.
The forum, hosted by Axiom Capital Management, Inc., Golenbock Eiseman Assor Bell & Peskoe, LLP, and CohnReznick LLP, will focus on the rapidly evolving technology landscape.
According to Singh, TalkLocal, a local services marketplace, represents key features of that landscape.
Singh believes that TalkLocal, which uses big data to match online and mobile searching consumers to the right local professionals by phone and in real time, stands at the intersection of five key trends in online commerce: location based marketing, the on-demand economy, big data, the rise of mobile, and the resulting comeback of the phone call.
From 2013 to 2014, small local businesses saw a 24% spike in inbound call leads, an increase which observers attribute to the increased use of mobile smartphones to find businesses nearby.
"All of these trends are huge but because few business models use an all-of-the-above approach, investors are being challenged to gamble on one trend over another when the real challenge is finding ways to tie these disparate yet related strains together," Singh observed, adding that "the realization that it's possible to unify these trends at all" will be the biggest takeaway for industry analysts and observers.
TalkLocal raised $4 million in venture funding, has served in 49 states and recently marked its one millionth service request call. It offers 50 service categories like roofing, accountants and heating & cooling.