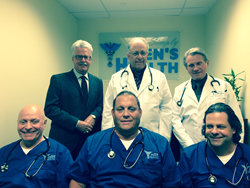 West Palm Beach, FL (PRWEB) June 06, 2015
Simply Men's Health, a leading provider of cutting-edge treatment for men's sexual dysfunction, non-surgical male pattern hair restoration, and health issues, announces their Grand Opening June 15, 2015.
Simply Men's Health is an all-male staffed medical clinic providing innovative treatments for Men's Sexual Health with the patient's comfort, confidentiality and privacy of prime importance. From the moment a patient enters Simply Men's Health, he gets the feeling of tranquility and relaxation as he is ushered into his own private, sun-filled room. The facility is designed as a medical sanctuary where men can feel completely at ease seeking help for sexual issues and be completely assured of confidentiality and privacy.
During the initial 1 1/2 - 2 hour visit with our medical staff, the patient receives a comprehensive exam, blood tests, and other tests to determine the root cause of their sexual dysfunction. Based on the results of these tests, combined with an extensive history and exam, our experienced medical staff designs a unique treatment program customized to each patient. Even when all else -- including Pills -- has failed, Simply Men's Health has a 98% success rate and offers a money back guarantee for ED.
Erectile dysfunction is a common medical problem and often men are embarrassed to seek treatment but they are far from being alone. Over 50% of men over the age of 50 experience erectile dysfunction and this only increases with age and medical conditions such as diabetes and heart disease. Traditional medicine does not have much to offer beyond Pills and implants and has not given as much attention to the aging male and Andropause (male menopause) as it has for women.
Simply Men's Health can help men reclaim their sexual health, youthful energy, and vitality and allow couples to enjoy sexual intimacy again. Simply ONE visit will change your life forever.
Simply Men's Health is centrally located in the Palm Beaches serving South Florida from Broward to St. Lucie County: 5405 Okeechobee Blvd, Suite 205, West Palm Beach, Florida, 1/2 mile east of the Turnpike.
For more information, or to schedule an appointment CALL 561-459-5356
http://www.SimplyMensHealth.com