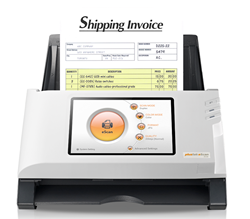 Santa Fe Springs, Calif. (PRWEB) June 04, 2015
Plustek Technology Inc., a leading manufacturer of imaging solutions, provider will announce an eScan A150 applet at the AICPA, Practitioners Symposium and Tech+ Conference (June 7-10 in Orlando, Fla.). The new eScan applet is an integration service and application software which runs with Plustek's eScan A150 and can support most popular accounts payable automation software and capture systems.
Clients will be able to submit paperwork to their CPAs through the eScan with a touch of a button; it dramatically simplifies the task versus traditional mailing or faxing. Once an eScan applet gets configured with the accountants' capture system, their clients are able to use it in an instant. Captured data can be populated and organized, creating a data transfer bridge that can streamline directly into the accounting software. The integration simplifies the bookkeeping workflow and improves the efficiency of both the firm and their clients significantly; furthermore, the touchscreen network document scanners can relieve other office digitalizing missions.
"The applet enables clients to remotely send their paperwork to any destination where the data is extracted for your accounting system," said Robert Fuchs, marketing manager for Plustek USA. "By streamlining and digitalizing the process, the eScan A150 applet will reduce both parties' workloads."
About eScan Applet:

Android based applet for Plustek eScan series
Supports HTTP requests for cloud service
Uploads to sever systems through FTPs, hot folders and mail
Sends to local share folder via Samba SMB/CIFS
Scans to multiple destinations with a single scan
Complimentary connector development support provided
About eScan A150:

PC-less standalone network scanner
Build-in 7" touchscreen, makes it simpler to use than smartphones
Sends to any destination using Ethernet or WiFi
Scans and saves to USB drive, network folders and mobile devices
50-sheet automatic document feeder (17 PPM scanning speed)
Sales/Purchase Information:
eScan A150 with applet is priced at $799 and available from authorized resellers, NewWave Technologies and Ingram Micro. CPAs may offer eScan A150 for additional clients at $599 each. For more product information and photos can be found by visiting: http://escan.plustek.com
About Plustek:
Plustek is an ISO 9002 certified scanner manufacturer and designer since 1986. With headquarters in Taiwan, Plustek operates in more than 20 countries around the world. For more information, please visit http://www.plustek.com/usa