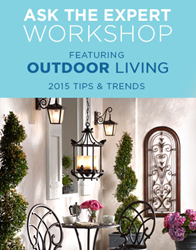 Offering a wide range of expert advice on how to make the most of outdoor spaces.
Los Angeles, California (PRWEB) June 05, 2015
Leading national lighting and home furnishings retailer and manufacturer Lamps Plus announces a new in-store "Ask the Expert" workshop to be presented by the company's style experts. Just in time for summer, the 60-minute workshop titled "Outdoor Living" offers a wide range of expert advice on how to make the most of outdoor spaces. All participants receive a Lamps Plus tote bag, full-color handout summarizing workshop key points, and coupon for attending.
The "Outdoor Living" workshops take place June 6 through July 25, 2015, at over a dozen Lamps Plus store locations throughout the western United States, including California, Oregon, Nevada, Colorado and Texas.
Topics covered include:

About the design workshops, Manja Swanson, Chief Creative Officer at Lamps Plus explains: "Our goal is to inform and inspire. From the latest trends to best practices, we want to let people know what's possible in outdoor decorating and design. With that knowledge, they're free to let their imaginations run wild."
To find and RSVP to a free workshop in their area, consumers should visit the Lamps Plus Ask the Expert online sign-up page.
About Lamps Plus
For more than 30 years, Lamps Plus has been synonymous with excellence in the retail lighting industry. Established in 1976, Lamps Plus is the nation's largest specialty lighting store, with dozens of locations throughout the western United States. In 2014, LampsPlus.com was named a Top 10 Housewares/Home Furnishings e-tailer and a "Hot 100" world's best retail website by Internet Retailer Magazine. Together with its retail locations, the company serves customers nationwide with the largest selection of functional and decorative lighting fixtures, accessories, furniture and home decor. This selection includes hundreds of designs, ranging from traditional chandeliers to the latest in home decor, available exclusively from Lamps Plus. The company also holds several patents for innovative lighting. Services offered include in-home lighting consultations, in-store workshops and installation from expert, licensed electricians. American Lighting Association certified designers are available to offer product recommendations and advice in all our stores, by phone or online at LampsPlus.com. The Lamps Plus family of websites also includes 55 Downing Street and Lamps Plus Open Box. Visit the official Lamps Plus website: LampsPlus.com.