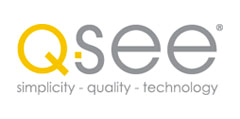 We feel that joining the Google Trusted Store Program will help us enrich the experience further for our customers by providing new customers with the confidence to start their security journey with Q-See
Anaheim, CA (PRWEB) June 04, 2015
Q-See, which offers high end and hi-definition surveillance equipment, was recently selected to join the Google Trusted Stores program. To help shoppers identify online merchants that offer a great shopping experience, the Google Trusted Store badge is awarded to e-commerce sites that demonstrate a track record of on-time shipping and excellent customer service. When visiting the Q-See website, shoppers will see a Google Trusted Store badge and can click on it for more information.
"We at Q-See believe in providing the best customer experience possible for customers. We feel that joining the Google Trusted Store Program will help us enrich the experience further for our customers by providing new customers with the confidence to start their security journey with Q-See," says Rishi Sharma, General Manager at Q-See.
As an added benefit, when a shopper makes a purchase at a Google Trusted Store, they have the option to select free purchase protection from Google. Then in the unlikely event of an issue with their purchase, they can request Google's help, and Google will work with Q-See and the customer to address the issue. As part of this, Google offers up to $1,000 lifetime purchase protection for eligible purchases.
Google Trusted Stores is entirely free, both for shoppers and for online stores. The program helps online stores like Q-See attract new customers, increase sales and differentiate themselves by showing off their excellent service via the badge on their websites.
About Q-See
Q-See is the forward-thinking solution for those who value performance and efficiency without ever sacrificing the user experience. Q-See aims to support consumers and business owners by empowering them to focus on living their lives, because we believe safety is a right for all.
We provide easy-to-use smart surveillance solutions that feature cutting edge technology and enhance the lifestyles of those who use them. Q-See sets industry standards, constantly evolving alongside the ever-changing connected technology landscape. To anyone who wants true peace of mind, Q-See is the smart security brand that provides sleek, user-friendly, and innovative security - because your surveillance system should not only fit, but enhance your lifestyle. Q-See surveillance solutions are widely available through leading online and storefront retail channels as well as a growing base of international distributors. To learn more about Q-See and its products, please visit http://www.Q-See.com.