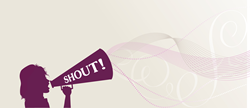 "SHOUT! provides a unique chance for women veterans like me to connect with, celebrate and honor the women who have served our country." -- Star Lara, Women Veterans Program Coordinator
San Francisco, CA (PRWEB) June 04, 2015
Swords to Plowshares, a San Francisco-based veteran service organization, is hosting a unique annual art reception now in its seventh year, SHOUT! for Women Veterans. SHOUT! is an opportunity to celebrate women who served our country and was inspired by the notion that art encourages expression and healing.
The exhibit will feature art by 28 artists whose work gives voice to women veterans, service members and families, friends and loved ones of women who served in the military. We have an incredible line-up of artists, some of whom served in Iraq or Afghanistan, presenting photography, poetry, painting, and sculpture.
The theme of this year's art show is "Celebrating Women in Service, Honoring Their Sacrifice."
Thursday, June 11th from 6:00 pm to 9:00 pm
Fort Mason, Conference Center Building
2 Marina Blvd, San Francisco, CA
"Too few women seek out veteran-specific services when they need help transitioning from combat to community," said Star Lara, Swords to Plowshares' Women Veterans Coordinator. "That is why peer support is so important for women veterans. SHOUT! provides a unique chance for women veterans like me to connect with, celebrate and honor the women who have served our country."
About Swords to Plowshares
War causes wounds and suffering that last beyond the battlefield. Our mission is to heal the wounds, to restore dignity, hope, and self-sufficiency to all veterans in need, and to reduce homelessness and poverty among veterans. Learn more about the work of Swords to Plowshares, and ways in which you can help, by visiting our website at http://www.swords-to-plowshares.org.
###