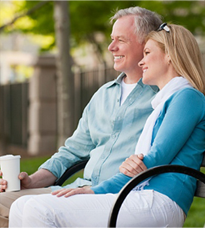 Age Gap Dating - Dating Older Men & Dating Older Women
Los Angeles, California (PRWEB) June 05, 2015
Around the turn of the century, AgeMatch.com, seeing a clear need in the dating market, launched its website and array of specialised services. This was long before the notion of older men dating younger women, or older women dating younger men, became much more mainstream and acceptable to general society.
AgeMatch.com is a website specifically designed for older men looking for relationships with younger women and also, on the other hand, older women looking for younger men. The site offers a place where people can meet a potential partner who is significantly older or younger than themselves. Such people can come together in a comfortable, on-line environment, knowing that there is a high chance of finding the right person to date or someone who may become their life partner.
The way that society and overall attitudes have evolved over the last 14 years or so means that older men and older women looking for younger companions or lovers or spouses can be comfortable that age differences are no longer as important as before. These days, most people tend to feel that, as long as two people find something in common, enjoy each other's company and feel that they are compatible with each, then age-gap dating is something to be enjoyed.
Using AgeMatch.com enables people to be secure in the knowledge that the other people on the site also are keenly looking for an "age-gap partner" and sincerely desire to get involved in such relationships. Naturally, as a result, there is less chance of misunderstandings or of taking time getting to know other people only to find that they are not, in fact, looking for a relationship.
This also frees older men or older women looking for such age-gap relationships from any potential embarrassment and the annoyance of general dating. Using AgeMatch.com means clients don't have to sort through profiles of thousands of people who are, in fact, really looking for someone of their own age.
AgeMatch.com not only offers a centre for both older men looking for younger women and older women looking for younger men to get in touch, but also offers great pieces of advice and tips as to how best proceed with these types of relationships. In fact, in some ways, being part of AgeMatch.com is like being part of a closely connected community, where all of the people involved have similar goals and aspirations.
It's hard to believe that 14 years has already passed since AgeMatch.com was first established but, during this period of time, it has become the world's largest, most popular and most effective dating website—totally committed to catering to the needs of older men looking for younger women and vice versa. Looking at the overall growth in traffic volumes it's clear that, more recently, there has been major growth in older women looking for younger men. This is often called "cougar dating", and reflects society's changing stance on age gap dating as a whole.
In any event, with 14 very successful years behind it, AgeMatch.com is now looking to the future and continued growth and success.
Let's all wish the birthday site a "happy 14th birthday".