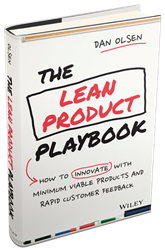 Dan's playbook is the missing manual on how to apply Lean Startup principles.
Menlo Park, CA (PRWEB) June 04, 2015
This week, Dan Olsen launches his new book, titled "The Lean Product Playbook: How to Innovate with Minimum Viable Products and Rapid Customer Feedback." Published by Wiley in hardcover and ebook, the book serves as a much-needed manual for how to apply Lean Startup principles to create successful products that delight customers.
"As we all know, most new products fail, and building great products is hard. Eric Ries' novel and valuable Lean Startup ideas, which can improve your odds of success, have spread like wildfire to product teams across the globe," says Olsen. "However, many people who are interested in applying these new ideas run into challenges because they lack specific guidance on what to do or how to do it. I have written 'The Lean Product Playbook' as an accessible, in-depth how-to guide for anyone interested in Lean Startup."
Silicon Valley expert Olsen has written the book based on years of hands-on experience building successful products as a product leader and Lean Startup consultant. With "The Lean Product Playbook," Olsen has written a comprehensive guidebook that entrepreneurs, product managers, designers, and developers alike will find valuable.
Available at Amazon, Barnes and Noble, and other major booksellers, Olsen's playbook offers unique insights that readers can begin to implement immediately for improved results, starting with the Product-Market Fit Pyramid, which provides an actionable definition of product-market fit. The core of the book explains the Lean Product Process, Olsen's 6-step methodology for achieving product-market fit through rapid iteration. Filled with real-world examples and two in-depth case studies, readers will walk away with concrete guidance on how to apply Lean Startup principles.
Advance praise for "The Lean Product Playbook" speaks to its importance and authoritative advice:

Aaron Levie, CEO of Box, attests, "I found his advice incredibly valuable--and if you want to build a successful product, you will too."
Dave McClure, founding partner of 500 Startups, highly recommends the book, saying, "Dan Olsen makes product development simple and logical. If you want to create kick-a-- products, you need to read this book."
Sean Ellis, CEO of GrowthHackers.com says, "Dan's playbook is the missing manual on how to apply Lean Startup principles."
Designed to be the world's most comprehensive guide on how to build great products, the playbook brings its ideas to life with over 50 figures and tables. The playbook also includes chapters dedicated to UX design, Agile development, and using analytics to optimize your product. To learn more, visit The Lean Product Playbook website.
About the Author:
Dan Olsen is an entrepreneur, consultant, and Lean Startup expert. At Olsen Solutions, he works with CEOs and product leaders to help them build great products and strong product teams, often as interim VP of product. Olsen has worked with a range of businesses, from small, early-stage startups to large public companies, on a wide variety of web and mobile products. His clients include Facebook, Box, Microsoft, YouSendIt (now Hightail), Epocrates, Medallia, and One Medical Group.
Prior to consulting, Olsen worked at Intuit, where he led the Quicken product team to record sales and profit. He also led product management at social networking pioneer Friendster, and was the cofounder and CEO of TechCrunch award winner YourVersion, a personalized news startup.
A frequent speaker at high-tech events, Olsen organizes the Lean Product and Lean UX Silicon Valley Meetup. Olsen earned engineering degrees from Northwestern and Virginia Tech and an MBA from Stanford. Learn more about Dan Olsen.
The Lean Product Playbook
By Dan Olsen
Wiley
June 2015
Hardcover and ebook; 336 pages