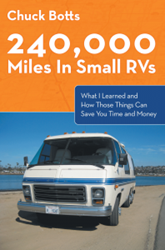 (The book) features tips for Baby Boomers and anyone else traveling in an RV to save both time and money, thanks to what (Chuck) Botts has learned while driving and maintaining several vehicles.
SAN DIEGO –
(PRWEB) June 04, 2015 -- Traveling in a small recreational vehicle can be an enjoyable experience, especially if you know what you are doing. An expert of such travel – a retiree and his wife who average more than 10,000 miles each year in their RV – share their experiences and tips in a new book packed with information. With more than 12,000 Baby Boomers retiring every day, the number of people traveling in an RV is expected to increase as well, with some hitting the road only during the best season, some going full time and others becoming snow birds, heading south in the winter and north in the summers.
"240,000 Miles in Small RVs" features tips for Baby Boomers and anyone else traveling in an RV to save both time and money, thanks to what Botts has learned while driving and maintaining several vehicles. The couple's current RV – a 23-foot remodeled 1977 GMC motorhome – provides plenty of space while keeping maneuverability for driving on normal roads and bridges, as well as smaller roads along scenic routes. The book's tips include everything from suggestions on remodeling and furniture choices to tire options, required tools and maintenance schedules. Just as important as vehicle maintenance is personal maintenance, and Botts describes devices to limit motion sickness, provide emergency information to first responders and keep muscles limber.
His years of traveling in an RV mean Botts has plenty of stories to share about spectacular scenery, tacky tourist traps and intriguing fellow travelers. Botts and his wife meet full-time RV travelers who barter skills for campsites, and they visit unusual places such as a former bordello turned into a museum and seek out wild horses in a national park. The book deftly delivers valuable information for fans of RVs, whether readers enjoy detailed description of the mechanics that make RVs run or simple tips for getting the most out of RV travel.
Author Chuck Botts and his wife, Mary, average more than 10,000 miles per year in their RV, exploring historic sites and scenery. Botts, a certified machinist with a bachelor's degree in mechanical engineering, has spent 40 years turning ideas and concepts into reality and completely remodeled his 1977 RV to give it modern technology. His latest changes detail how he improved his RV gas mileage by 43 percent with his hybrid HHO system and how he made clip-on lenses that corrected his red-green colorblindness. He and Mary live in San Diego.
----------
For additional information, please visit http://www.smallrvtouring.com
240,000 Miles in Small RVs
Chuck Botts
Dog Ear Publishing
ISBN: 978-1-4575-3305-1 160 pages Paperback $14.95 US
ISBN: 978-145753-762-2 eBook $9.99 US
Available at Ingram, Amazon.com, Barnes & Noble and fine bookstores everywhere.
About Dog Ear Publishing, LLC
Dog Ear Publishing offers completely customized self-publishing services for independent authors. We provide cost-effective, fast, and highly profitable services to publish and distribute independently published books. Our book publishing and distribution services reach worldwide. Dog Ear authors retain all rights and complete creative control throughout the entire self-publishing process. Self-publishing services are available globally at http://www.dogearpublishing.net and from our offices in Indianapolis.
Dog Ear Publishing – self-publishing that actually makes sense.