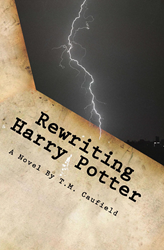 (PRWEB) June 04, 2015
"Most of my life, I've felt alienated from my parents, and I used to think it was because I'm a Gryffindor and they're Slytherins, and that's just, you know, the dynamic. But, no, it turns out that they're just 'crazy,' I love 'em, but they're crazy…" – Jessica Canfield, "Rewriting Harry Potter"
Book Description:
Once a child writing prodigy, Jessica finds herself all grown up and desperate to be considered one of the greatest writers of all time. So, when a major Hollywood studio hires her to rewrite "Harry Potter," one of the most popular sagas of all time, she sees no better way. But first, convinced that her "abnormal" background might stand in the way of her writing something that "normal" people can relate to, Jessica quickly leaves Hollywood in a quest to immerse herself in how "the other side" lives. It doesn't take long, however, for her to realize that becoming common isn't as simple as she thought it would be. And before she can write "FADE OUT," she must decide if she is really willing to pay the price to achieve true greatness.
Just released - Pick up your copy here today!
About the author:
T.M. Caufield is a writer and comedian born and raised in Los Angeles, CA. With a unique perspective and humorous approach to painful experiences, she is known for leaving audiences laughing so much that they forgot crying was an option. She holds a B.A. in Cinema-Television from The University of Southern California, and can be found frolicking around on the beaches of Southern California or Palm Beach County, FL. For more information, visit http://www.tashacaufield.com.