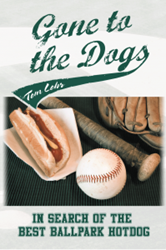 The top ballpark should come as no surprise to true fans of both baseball and hotdogs, earning a perfect score.
TULSA, Okla. (PRWEB) June 05, 2015
Tom Lohr loves hotdogs almost as much as he loves the game of baseball and thinks putting ketchup on the all-American food should be a crime. He spent more than 100 days trying to find the best hotdog in major league ballparks and writes about that mission in this new book released by Dog ear Publishing. His trip took him to all 30 major league ballparks as well as 35 minor league venues.
"Gone to the Dogs" details Lohr's determination to find the best hotdog, whether sleeping in the back of his small SUV, crashing on strangers' couches and sitting in the cheap seats to stick to his budget, logging 19,000 miles during his adventure. Armed with a love of the hotdog and a judging system created with help from the National Hot Dog and Sausage Council, Lohr ranked the all-American food for bun freshness, toppings, price, taste, portability and its "it factor." He also painstakingly details facts about ballparks such as ambiance, ticket prices and cleanliness.
Baseball fans will appreciate the honest – and plentiful – description of the ballparks, as well as insider information on terms and techniques related to hotdogs. Lohr's adventures continued even on days when he wasn't watching a game. He spoke to officials at a meat-processing company; ran 5K races, hoping to balance out the unhealthy dinner fare; and helped a sports journalist cover a college baseball game before sleeping on her couch. The top ballpark should come as no surprise to true fans of both baseball and hotdogs, earning a perfect score.
Author Tom Lohr spent 24 years in the Navy, mainly during the Cold War, working on missile systems. He also built oil and natural gas pipelines and spent more than a year at a research station at the South Pole. He and his family listened to radio broadcasts of Pittsburgh Pirates games from their West Virginia home. He writes about baseball on his blog, ballparkdogs.blogspot.com. Lohr has climbed Mount Fuji, Mount Blanc, The Matterhorn, Mount Kilimanjaro and other peaks, as well as hiked in Scotland and Spain.
----------
For additional information, please visit http://www.tomlohrbooks.com
Gone to the Dogs
Tom Lohr
Dog Ear Publishing
ISBN: 978-1-4575-3623-6; 256 pages; $14.95 US
Available at Ingram, Amazon.com, Barnes & Noble and fine bookstores everywhere.
About Dog Ear Publishing, LLC
Dog Ear Publishing offers completely customized self-publishing services for independent authors. We provide cost-effective, fast, and highly profitable services to publish and distribute independently published books. Our book publishing and distribution services reach worldwide. Dog Ear authors retain all rights and complete creative control throughout the entire self-publishing process. Self-publishing services are available globally at http://www.dogearpublishing.net and from our offices in Indianapolis.
Dog Ear Publishing – self-publishing that actually makes sense.