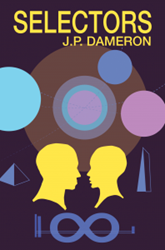 an interesting variant on traditional science fiction's idea of alien abduction.
DANVILLE, Va. –
(PRWEB) June 09, 2015 -- Carlton Westerfield was at one time an award-winning writer but left behind his promising writing career and found work as a fry cook. Pete Dameron, a student trying to find his way through life, decides to seek out the reclusive author in the mountains of North Carolina, and what follows forms the core of this new novel. Dameron is pleased and puzzled when Westerfield agrees to meet him upon the condition that he arrive alone or with a blood relative, without any recording equipment or cameras. Dameron agrees to the terms, and when he hears the tale that Westerfield has to tell, he is deeply intrigued.
Westerfield, or Ralph, as he prefers to be addressed, weaves a tale of a race of aliens from a planet called Croatan. These aliens have selected a handful of humans to be transported to Croatan to participate in an important ritual, whose ramifications will affect both Croatan and Earth. The Croatans treat the selected humans kindly, and all are given the option to return to Earth at any time. Westerfield and the other people selected are fascinated by the Croatans and their peace-loving ways, but is this fascination enough to make them stay? And is the ritual as benevolent as the Croatans make it sound?
"Selectors" is an interesting variant on traditional science fiction's idea of alien abduction; the Croatans are a fascinating reflection of the traits that make humans human, distorted for better and for worse.
J.P. Dameron, a native of the Southern Piedmont in Virginia, took his own winding path through education, eventually earning two degrees and retiring as a federal employee. Dameron's love of writing dates back to his days editing the fifth-grade newspaper, and his work appeared in small press and regional publications. This is his first novel.
----------
For additional information, please visit http://www.jpdameron.com
Selectors
J.P. Dameron
Dog Ear Publishing
ISBN: 978-1-4575-3739-4 280 pages $14.99 US
Available at Ingram, Amazon.com, Barnes & Noble and fine bookstores everywhere.
About Dog Ear Publishing, LLC
Dog Ear Publishing offers completely customized self-publishing services for independent authors. We provide cost-effective, fast, and highly profitable services to publish and distribute independently published books. Our book publishing and distribution services reach worldwide. Dog Ear authors retain all rights and complete creative control throughout the entire self-publishing process. Self-publishing services are available globally at http://www.dogearpublishing.net and from our offices in Indianapolis.
Dog Ear Publishing – self-publishing that actually makes sense.