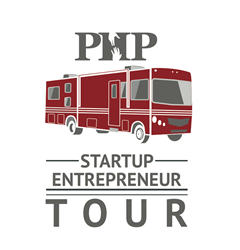 "More people need to understand what it takes to be an entrepeneur and that entrepreneurs means more new jobs." - Patrick Bet-David
Glendale, California (PRWEB) June 05, 2015
Author/Entrepreneur and CEO of the PHP Agency Patrick Bet-David will be championing startup business owners as part of his 16-city 'Startup Entrepreneur Tour' that will travel across the country from June 9 to July 7, 2015. The host of the "Valuetainment with Patrick Bet-David" on YouTube will be leading a #WhyStartup Seminar in each city that is free and open to the public.
Bet-David, author of "Doing the Impossible" and "The Next Perfect Storm", is a passionate advocate for current or would-be entrepreneurs. To support the growing need for entrepreneurs in America, Bet-David will be will be traveling the country in a custom-wrapped motor coach talking with successful entrepreneurs along the way.
"As we approach a big election season, I wanted to do a campaign-style road tour that brings attention to the need for more startup entrepreneurs," said Bet-David. "I want to encourage and do what I can for the many would-be entrepreneurs out there. More people need to understand what it takes to be an entrepreneur and that more entrepreneurs means more new jobs."
The need for entrepreneurship couldn't be greater. According to the Kauffman Foundation for Entrepreneurship, new and start-up businesses account for "nearly all" net new job creation and almost 20 percent of the gross job creation. In contrast, a recent study published in the Los Angeles Times cites that 83 percent of college graduates do not have a job lined up as they exit college.
The 'Startup Entrepreneur Tour' kicks off in Palmdale, CA on June 9, and makes stops in Bakersfield and Ventura before heading east. From there it will hit Albuquerque, Dallas, Houston, Austin, Jacksonville, Miami, Atlanta and Chicago. It will end the tour with another run through California in Redding, San Mateo, Los Angeles, Rancho Cucamonga and finally, in San Diego on July 7.
In each market, Patrick will share practical advice and important insights for anyone interested in becoming an entrepreneur. The #WhyStartup Seminars will be held at 7 p.m. at most locations and run approximately 90 minutes. While there is no charge for the seminar, attendees are asked to register for the event at Eventbrite.
Current or would-be entrepreneurs unable to attend the #WhyStartup Seminar are still welcome to follow Patrick and the Tour online via Twitter, Facebook or Instagram. In addition, Patrick will commit the entire month of Valuetainment episodes on YouTube to entrepreneurship.
"This country was built on the backs of individuals who believed in the power of entrepreneurship," said Bet-David. "And we need to bring that spirit back if we want to see more jobs and prosperity in America. I look forward to meeting people who want to keep the fire of startups alive."
The 'Startup Entrepreneur Tour' is presented and sponsored by the PHP Agency, with support from both AIG and Nationwide insurance companies.