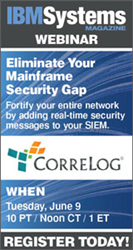 Real-time enterprise network security should not be relegated to just your distributed systems; live mainframe data must be included to mitigate cyber risk
Naples, Florida (PRWEB) June 04, 2015
CorreLog, the leader in multi-platform IT security event log management, today announced it will deliver its popular educational session titled "Eliminate Your Mainframe Security Gap Using Products You Already Own." The presentation will provide examples of documented mainframe breaches and show how it is possible to leverage RACF, ACF2, and Top Secret data, coupled with DB2 access logs and include the events, in real time, into distributed Security Information and Event Management (SIEM) solutions. Contrary to a traditional approach of sending the mainframe data to the SIEM in batch or nightly reports, this presentation will detail how mainframe security events can be sent to distributed SIEMs in real time, as the events are taking place.
"Having a SIEM system will not be enough to prevent a breach if you don't have real-time security events from your mainframe going into the SIEM," said George Faucher, CorreLog president and CEO. "Real-time enterprise network security should not be relegated to just your distributed systems; live mainframe data must be included to mitigate cyber risk."
CorreLog SIEM Agent for IBM z/OS is able to intercept RACF, ACF2, and Top Secret events and DB2 accesses from z/OS platforms and convert those events to standard syslog SIEM format (LEEF, CEF, RFC 3164) in real time. The syslog messages leave z/OS ready-formatted for SIEM and no further processing outside of z/OS is required. SIEM Agent can be deployed in single or multiple LPARS and installation time can be as fast as 60-90 minutes, depending on the environment. Additional mainframe event types that SIEM Agent can convert in real time are TCP/IP events including FTP, TSO commands, CICS transactions, job start/stops and ABENDS, and many other user/system access activities.
"We are pleased to be working with IBM Systems magazine for this webinar and are eager to help them add more forums for further educating subscribers on best-practice for z/OS security," added Faucher.
Event details:
What: CorreLog/IBM Systems Webinar – "Eliminate Your Mainframe Gap"
When: Tuesday, June 9, 2015 – 1:00-2:00 p.m. EDT
Registration: Click here to register at IBM Systems Magazine website.
If you are unable to attend this webinar but would like to receive a copy of the slide deck, please contact CorreLog here. More information on SIEM Agent for IBM z/OS can be found at http://www.correlog.com.
About CorreLog:
CorreLog, Inc. is the leading ISV for cross-platform IT security log management and event log correlation. Our solutions provide best-in-class, real-time event log collection across both distributed and mainframe systems. Event logs generated from CorreLog Agents are ready-format for the CorreLog SIEM Correlation Server or any SIEM correlation engine. The core products in the CorreLog solution suite are:
1. CorreLog SIEM Agent for IBM z/OS™
2. CorreLog Visualizer for IBM z/OS™
3. CorreLog SIEM Correlation Server™
SIEM Agent for IBM z/OS resides in a mainframe LPAR and in real time, converts mainframe security events such as RACF, ACF2, Top Secret and DB2 accesses to distributed syslog format for enterprise SIEM systems. For enterprises that need extended mainframe visibility for users that don't have access to their SIEM, CorreLog offers Visualizer for z/OS which delivers live mainframe security dashboards through any standard web browser.
The CorreLog SIEM Correlation Server delivers enterprise log management with a best-in-class event correlation engine. CorreLog SIEM Server operates across Windows, UNIX, and Linux platforms and helps identify anomalous behavior and security policy violations by collecting and correlating user activity logs and various system event data. Each of these CorreLog solutions have been designed to adhere to standards set forth by PCI DSS, HIPAA, IRS Pub. 1075, SOX, GLBA, FISMA, NERC and many other regulatory standards.
For more information on CorreLog products, please visit http://www.correlog.com.
Copyright © 2015, CorreLog, Inc. All rights reserved.
All trademarks and registered trademarks used herein are the properties of their respective owners.
Press Contact:
Tony Perri, Perri Marketing, Inc.
tony(at)perrimarketing(dot)com
+1 (423) 987-4925
http://www.perrimarketing.com