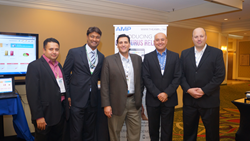 This powerful alliance will bring amazing new insights for users at all levels in real time. The combined capabilities will elevate performance like never before in Commercial Real Estate across the world" - Neel Naicker, CEO AMP Technologies
Silicon Valley, CA (PRWEB) June 08, 2015
Silicon Valley, CA, and Solon, OH – June 8th, 2015 – MRI Software, a global provider of property and investment management solutions, and AMP Technologies announced today a powerful partnership that has the potential to transform the Commercial Real Estate Industry, bringing a new level of innovation to the marketplace. With AMP's strong presence in Silicon Valley, both teams will leverage innovation in a very disruptive way.
This partnership is focused on redefining organizational efficiency, addressing key industry challenges, and igniting a true technology-led business change.
"Our clients are seeking innovative methods to leverage data related to their assets," said Patrick Ghilani, CEO of MRI Software. "The solutions offered by MRI Software and AMP Technologies enable organizations to assess and analyze their data according to their unique business needs."
The new AMP and MRI technology-first solutions will be built in a collaboration that draws on the distinct strengths of each company: AMP's big data and analytics capabilities, fused with MRI's widely recognized consumer experience and property management solutions. The goal of the collaboration is to create results that will transform specific aspects of how businesses and employees work, and allow companies to achieve new levels of efficiency, effectiveness, and customer satisfaction—faster and easier than ever before.
Neel Naicker, Co-Founder and CEO of AMP Technologies, "This partnership will drastically maximize the User Experience by combining AMP's cutting-edge technology with MRI's dynamic property management software, helping organizations improve their bottom line and leverage returns in a powerful way. With AMP's focus on Internet of Things, Big Data, Mobility, and Enhanced Security, clients can not only bridge the gap from the past to present, but be poised for transformation into the future. This powerful alliance will bring amazing real time asset management for every Commercial Real Estate company in the world."
AMP utilizes the entire data holdings of a company and converts it into valuable, actionable information - all in real time from a mobile device. Share files on any supported device and view current and future revenue over a complete portfolio. Collaborate in real time and quickly identify opportunities, and risk, before the competition. The competitive advantage of leveraged data of all types, from all sources, internal or external enables faster response and quicker decision making that AMP exemplifies.
The advanced user interface delivers deep insights on clients and tenants, helping to generate increased net operating income with the added capability of smart energy management along with IOT (Internet of things). Cost savings and smarter business decisions can be simplified. AMP helps connect relative data to operational intelligence so organizations gain extraordinary results.
Tapping into innovation through best-of-breed mobility, cloud infrastructure, and collaboration to deliver business intelligence focused on revenue health, risk management, and tenant strength. The AMP User Experience is designed to drive smarter data and mobile capabilities to drive performance like never before.
About AMP Technologies
Visit AMP Technologies – CLICK HERE
AMP continues to see top Commercial Real Estate organizations request to sign up for their innovative platform and utilize their cost effective service offerings around due diligence, property accounting, lease administration, asset management and data standardization. AMP combines best-of-breed performance with speed and accuracy. The company is built on what clients need to make their job easier – simplicity is at the core. Intuitive and innovative solutions drive a profitable business; this is what AMP delivers.
Headquartered in Mountain View, California, AMP Technologies provides a suite of products and services for commercial real estate asset management. The AMP Technologies Platform is a powerful, yet highly intuitive, platform to monitor and manage individual properties and large portfolios. Its products are built on best-of- breed cloud technology and are designed for the modern enterprise to provide sophisticated business intelligence, collaboration and management tools. With a comprehensive, yet highly intuitive, platform for monitoring and managing individual properties to entire portfolios, AMP provides the key tools needed for every level of management for effective analysis and decision-making.
About MRI Software
MRI Software LLC is a leading provider of innovative software solutions for the global real estate industry. MRI delivers a comprehensive and truly configurable solution, from property-level management and accounting to the most complex, long-range financial modeling and analytics for both the commercial and multifamily real estate markets. As a leading provider of real estate enterprise software applications and hosted solutions, MRI leverages over 40 years of business experience to develop long-term successful relationships with its clients. Originally founded in Cleveland, Ohio, U.S.A., the company has offices in Toronto, London, Sydney, Singapore, and Hong Kong. For more information, please visit http://www.mrisoftware.com.