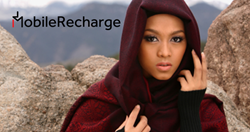 "Your services are really good! Merci" Farid DANKO on Trustpilot.com)
(PRWEB) June 06, 2015
Algerians living abroad in France, Germany, Canada, the USA or elsewhere, can now top up mobiles in their native country on MobileRecharge.com. Those who already started using the service find it easy, even easier than if they made the top up from Algeria itself. On review websites they claim it takes less than 1 minute to fill in the online form available on: http://algeria.mobilerecharge.com/.
This new opportunity for top ups to Algeria is expected to improve the mobile communication for hundreds of people there. More precisely, family and friends of over 1,400,000 Algerians abroad (as registered by migrationsmap.com way back in 2007) may now receive support from abroad as mobile credit transferred through MobileRecharge.com.
The networks in Algeria that welcome international top up credit are: Djezzy, Mobilis and Ooredoo. In other words, Algerian immigrants can use MobileRecharge.com for refills of prepaid mobiles (numbers) in Algeria pertaining to these three operators.
There is no need for a contract to purchase mobile credit in your account and then send it to Algeria. Anyone can send instant mobile credit with MobileRecharge.com without hassle. There are 2 ways to top up:
-directly on MobileRecharge.com
-or from the app called MobileRecharge, available for both iOS and Android devices.
To try the service one needs to open up a free account first. This is possible:
-on the website at http://algeria.mobilerecharge.com/buy/mobile_recharge
-or from the MobileRecharge app.
This means that if someone decides to use the service on their PC they'll need to log in first on MobileRecharge.com. Next, go to ordering section and enter all details of the transaction: number, operator, airtime amount before proceeding to payment. And the mobile credit amount will be received instantly.
Those who get the app installed on their smartphones will automatically be required to register with MobileRecharge in order to have access to "My account." No extra costs involved.
Algeria was included in the MobileRecharge.com list of countries where expats can send mobile credit as a reaction to feedback from existing and potential users. MobileRecharge.com is dedicated to facilitate long-distance support or easy-to-send online gifts for ethnic groups worlwide.
Every 2 minutes a new customer joins MobileRecharge.com. Plus, on review websites such as Trustpilot, it is highly favored above other similar services for the following strong point:
-fast top up
-easy to use service
-100% safe transactions
-Paypal accepted besides all major cards, no matter the currency or country of the sender
-no contract needed
-daily promotions always running on the website's "Promotions" page, in the MobileRecharge app or the social media channels (Facebook, Google+, and Twitter)
-website available in several languages: English, Spanish, German, French, Italian
-Customer Support in several languages, including English and Spanish; responsive and supportive team
-free MobileRecharge app: free to install on any Android or iOS device and easy to use
-very active Facebook page called MobileRecharge.com
-Frequent Twitter updates on promotions and various expat life related issues
-clear tutorials on YouTube: https://www.youtube.com/channel/UCKqxiW5wpgDDuR1wApyupUQ
-regular and interesting articles at http://blog.mobilerecharge.com/
MobileRecharge.com responds actively to feedback from top up users worldwide. New operators will soon be added as a result. The telecom specialists in the MobileRecharge.com team are constantly working on expanding the service.
About MobileRecharge.com
MobileRecharge.com is an interactive website designed by KeepCalling, a global telecommunications company registered in 2002 in USA. Presently, KeepCalling provides its services to hundreds of thousands of consumers and businesses, with a focus on customer satisfaction. KeepCalling has been listed by Inc 5000 in top 20 telecom companies in the USA for the last 4 years. In 2014 the company was designated the 18th fastest growing company in the telecommunications industry in USA with a revenue increase of over 600% from 2010 to 2013.