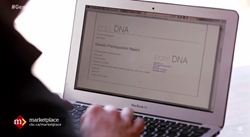 Such TV features provide viewers with the information they need to know before purchasing such genetic tests, helping them make an informed choice.
Toronto, Canada (PRWEB) June 08, 2015
Four major DNA testing companies – EasyDNA, 23andMe, Viaguard and Health Holistic International – have had their Genetic Health Predisposition test reviewed by CBC news journalist Erica Johnson. Johnson, the host of the show who has won many journalist awards including the Jack Webster Award, RTNDA Award and a Freddie Award, offers a candid, unbiased review of the genetic predisposition testing services offered by Viaguard, 23andme, EasyDNA and Health Holistic International. The show aired on April 3rd 2015 (1).
The episode features contributing producer for Gene Genie Bryce Sage, who volunteers to take the 4 different genetic health tests, assisted by Johnson. The CBC host and Bryce then sift through the different results together trying to understand their significance, discussing the test results with Bryce who voices his main concerns.
Johnson is seen interviewing Senator James Cowan, who passed a bill to limit employer and insurance company's access to genetic data (2). Genetic health tests could potentially affect a person's employability or eligibility for health insurance, something which EasyDNA also feels very strongly about. In response to this issue, the sales and marketing manager for EasyDNA states that "the results of such tests should be strictly confidential and the person carrying out the test should be the only person to have access to the results and choose themselves who they wish to disclose the results to."
The company has been featured in many TV shows across the world, including the Australian drama, WonderLand and Channel New Asia's Down the Line. The sales and marketing manager for EasyDNA states that "featuring in a CBC episode as one of the 4 companies offering genetic predisposition services is a great opportunity for EasyDNA – it shows an unbiased view of the test from the consumer perspective, placing us side by side with other leading companies in the same industry such as 23andMe. Such TV features also provide viewers with the information they need to know before purchasing such genetic tests, helping them make an informed choice"(3).
Following the results of the four different tests, Johnson seeks to investigate their significance and scientific relevance by consulting Prof. Fritz Roth, geneticist at University of Toronto and 23andMe's director of business development, Emily Drabant Conley. Two of the main criticisms that arise include the fact that, essentially, there is no industry standard on how results should be presented, which means, just like Bryce, a consumer can receive conflicting results for the same set of diseases tested. Moreover, further scientific studies are still required in order to make these tests more accurate.
On a concluding note, an EasyDNA representative states that "Overall, the perspectives and concerns voiced in Gene Genie are fair and we acknowledge there is still scope for a lot of development in this field. As a company, however, we stress to our clients the fact that genetic factors are only a small part of the picture and even a high percentage predisposition does not mean they will necessarily develop the disease and a close to 0 predisposition does not necessarily mean they will not. Therefore, the advice of a genetic counsellor is essential before and after taking the test"(4).
(1) http://www.cbc.ca/marketplace/episodes/2014-2015/dna-testing-gene-genie
(2) http://www.cbc.ca/m/news/health/home-dna-tests-may-affect-insurance-employment-1.3018086
(3) http://www.cbc.ca/marketplace/blog/easydna-statement
(4) https://www.easydna.ca/genetic-predisposition-dna-testing/