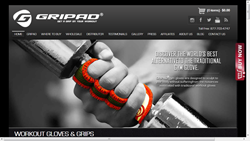 Replying to a query related to the features of the gym gloves on offer
(PRWEB) June 06, 2015
Claiming to be the best gym glove provider is an enormous commitment, but GRIPAD USA is living up to this challenge. It has proven credentials in designing and delivering an impressive range of exercise gloves meant for all fitness freaks, irrespective of their gender, age and fitness level. By offering products embracing virtues like flexibility, comfort and performance, GRIPAD USA ensures safer, hygienic, effective and advanced experience for the gym goers. No wonder, these products are becoming the standard in the highly evolved fitness industry.
Replying to a query related to the features of the gym gloves on offer, one of the executives at GRIPADS recently stated, "We thrive on quality and hence our products adhere to the norms and standards appreciated globally. Our offerings are made of strong neoprene with individually sewn layers so they hold up to rugged use in everyday routine. Addressing the moisture concerns, our products come with moisture-wicking capabilities ensuring to pull sweat away from palms and keep them clean and dry."
Moving away from the conventional gym gloves, the ones offered by GRIPAD USA do not cover whole hand, as total coverage can restrict natural motion and prevent the skin from breathing properly. Gripads slide on over the fingers and only cover the user's palms, sparing him on compromising on his technique. The Gripads are designed with safety in mind and allows the user to maintain a tight grip on weights and other heavy equipment without worrying about slippage. These offerings keep the grip tight and weight under control so that one can focus on moves and technique.
With the intent to offer some insight into the gym gloves on offer, the executive further stated, "Contrary to the conventional gym gloves, the workout grips, our premium offerings, has the reputation to provide an entirely different look and feel. Ideal for gym goers of both genders, the gloves are made from Neoprene, a material used for making wetsuits and thus offer moisture-proof, slip-free grip ensuring a safe and effective workout. Additionally, a unique three-finger loop design allows the thumb and pinkie to be free resulting in a better range of motion and superior gripping."
Gripad lifting gloves products are versatile enough for back exercises, dumbbell training, bench-press and rowing. The other remarkable feature of these products is that they hold in place and do not stretch out. Bearing the logo of GRIPAD USA, the gym gloves on offer can be relied upon for form and functionality. At GRIPAD USA, one can also find gloves for Crossfit, Spinning, Kettlebells and a variety of common bodyweight exercises. For reasons these and more, one can say that GRIPAD USA is the ideal place for those who wish to find the best Weight Lifting Gloves.
About GRIPAD USA
Brainchild of childhood friends Roy, Barak and Avi, GRIPAD USA excels in designing, manufacturing and retailing superior yet cost effective exercise gloves for fitness freaks of all ages and fitness levels. At GRIPAD USA, one can buy the best gym gloves for men, Gripad for women, Belinda Gripad, Gripad Elite and Gripad for Crossfit gloves. The online store is also an ideal destination for fitness seekers to shop for weightlifting gloves.
Contact Information:
GRIPAD USA LLC
Phone number: 877-703-4747 (toll free)
Contact: http://www.gripads.com/contact-us/
Web: http://www.gripads.com/
# # #