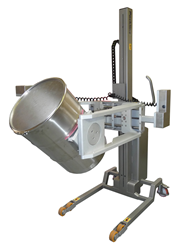 The stainless steel drum handling equipment is the ideal solution to increase efficiency and improve health and safety conditions.
(PRWEB) August 03, 2015
New to Packline Materials Handling is the fully motorised drum lifting equipment with drum clamp attachment, designed to lift and forward tip the drum being handled. Constructed mainly from stainless steel, this drum handling equipment is suitable for clean room environments, food processing, pharmaceutical and medical processing industries.
The fully motorised drum clamp attachment is suitable for lifting and also forward tipping the drum being handled.
Both motorised clamping and motorised forward tipping can be operated via a pendant control, which is mounted to the handlebars of the drum handling equipment.
This stainless steel drum handling solution enables the operator to lift and handle a drum containing, for example, medical ingredients, raise the drum to a level above head height and then tip forward to empty the contents out onto a hopper.
Most drum sizes can be catered for, with bespoke size attachments designed and manufactured to suit the drum being handled.
This drum lifter has low profile front rocking pallet wheels, and wider legs, to suit bespoke pallet requirements.
Longer arms on the drum clamp attachment ensures that the operator only needs to access the pallet from one side to lift all drums from the pallet; rather than requiring the operator to manoeuvre the lifter around the pallet. This makes the solution easier to use in small spaces where movement of pallets is restricted.
Specifications:

Maximum Capacity: 100kg / 220lbs
Load Centre: 871mm (34") from front of column
Attachment Mass: 105kg / 231lbs
Main Materials: Stainless Steel 304, Aluminium 6082/T6, Delrin Polypropylene, Brass, Phosphor Bronze.
Packline Materials Handling has been designing and manufacturing lifting and handling equipment since 1993. The range of stainless steel materials handling equipment has established Packline as a leading supplier of quality roll and drum handling equipment for the food, drinks, dairy, pharmaceutical and medical processing industries worldwide.
Packline Materials Handling are able to provide bespoke lifting and handling solutions for materials handling issues involving rolls and drums; by creating new concepts or tailoring existing lifting and handling equipment to meet specific requirements.
Ideally suited for clean room environments, the stainless steel range of drum handling equipment from Packline materials Handling, is suitable for use in the following industries:

Food
Drinks and Beverages
Dairy
FMCG
Pharmaceutical
Medical Processing
Chemical
The purpose-designed compact framework, positioning of handlebars and addition of an optional remote control device provide improved manoeuvrability and ease of use for the operator.
The incredibly small footprint makes the drum handling equipment highly manoeuvrable and a natural choice for today's narrow production lines and demanding lifting requirements.
For further information on the forward tipping drum handling equipment or the full range of lifting and handling equipment, please contact Packline Materials Handling on +44 (0)1202 307700 or visit http://www.packline.co.uk
Packline Ltd
Unit 28
Newtown Business Park
Ringwood Road
Poole, Dorset
BH12 3LL, UK
USA Distributor:
Ultrasource USA LLC
1414 West 29th Street
Kansas City, MO 64108-3604
(O): 816.360.2034 | Ext 2034
http://www.ultrasourceusa.com/