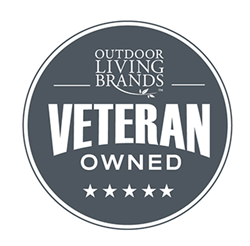 We are thrilled to see success with this years campaign and look forward to our activities planned for later on this year.
Richmond, Virginia (PRWEB) June 04, 2015
World Class Franchisor, Outdoor Living Brands (http://www.outdoorlivingbrands.com), celebrated Military Appreciation Month in a spectacular way. The award winning franchisor announced their second annual Veteran Awareness Campaign by doubling the discounts they provide for active and retired military professionals.
Outdoor Living Brands spent the month of May providing educational opportunities on franchising by partnering with Recruit Military and local Franchise Coach, Terrence West. The development team attended special events in San Antonio, Texas and in Fayetteville, North Carolina in order to answer questions and highlight the many benefits franchises offer active and retired military men and women.
"Last year was our inaugural Veteran Awareness Campaign, and we were able to educate and engage veterans from all four branches of the armed forces throughout the year. As a result, we welcomed 13 new franchisees to our family", stated Franchise Development Marketing Coordinator, Shemar Pucel.
Outdoor Living Brands is thrilled to announce they received over 25 inquiries from Veterans throughout the country as a result of their awareness activities. Renew Crew has already awarded a new franchise to 14 year retired Air Force Captain, Richard Pinckney who will be opening his franchise in Castle Rock, CO next spring and sister franchise, Mosquito Squad, also awarded a franchise to US Army veterans Larry Poltrock and Mark Hoerman who will also be opening their new Mosquito Squad franchise in Antigo, Wisconsin next spring.
For additional information on their veteran discounts or to become a franchisee with any one of Outdoor Living Brands four World Class Franchise opportunities, visit http://www.OutdoorLivingBrands.com.
About Outdoor Living Brands
With more than 300 franchise locations throughout the United States and abroad, Outdoor Living Brands offers exciting franchise opportunities in the growing outdoor living niche. For more information, visit http://www.OutdoorLivingBrands.com.