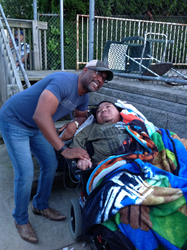 (PRWEB) June 04, 2015
NEW BRUNSWICK, NJ: Poppy Hagood, a patient at PSE&G Children's Specialized Hospital in New Brunswick, recently had the opportunity to meet his idol and favorite singer, Darius Rucker, at concert at the PNC Bank Arts Center. Poppy suffered a spinal cord injury as a result of a car accident at a very young age, which left him completely paralyzed from the neck down. He is dependent on a ventilator and requires round the clock nursing care at the 68-bed inpatient rehabilitation hospital in New Brunswick. Darius is one of Poppy's favorite artists and he loves listening to the song "Homegrown Honey" and even sings it too! We cannot thank our media partner, Cumulus Radio and NASH FM enough for making Poppy's dream come true!
Children's Specialized Hospital is the nation's leading provider of inpatient and outpatient care for children from birth to 21 years of age facing special health challenges — from chronic illnesses and complex physical disabilities like brain and spinal cord injuries, to developmental and behavioral issues like autism and mental health. At thirteen different New Jersey locations, our pediatric specialists partner with families to make our many innovative therapies and medical treatments more personalized and effective...so children can achieve more of their goals.
To help, or find more information: call 888-CHILDRENS; visit http://www.childrens-specialized.org; Facebook: http://www.facebook.com/childrensspecialized; Twitter: http://www.twitter.com/childrensspecnj; YouTube: http://www.youtube.com/cshnj; LinkedIn: http://www.linkedin.com/company/children's-specialized-hospital