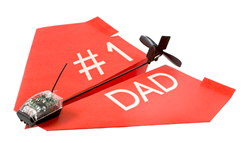 (PRWEB) June 13, 2015
The classic icon of paper planes has taken on new life since PowerUp Toys launched a gadget to enable anybody with a smartphone to control their own designed and folded paper airplanes. The $1.2m Kickstarter success is still the top of the Aviation category.
Father's Day has always been a big day for PowerUp, seeing as how the gadget is a hit with dads and kids alike. But this year is special. This year Father's Day falls on National Paper Airplane Day.
To celebrate, the PowerUp team has introduced a new limited edition bundle, a double bundle, so that fathers and their kids can enjoy the magic of flight together. They're also offering a 15% discount on the whole store with a discount code.
How does it work? Simply fold a PowerUp 3.0 template or your own paper airplane, then attach the PowerUp 3.0 Smart Module to your plane with the patented clips. Connect the free app to the Smart Module with your iPhone or Android device. Push the throttle to launch the paper airplane. Tilt your Smartphone left or right to steer your plane, or increase or reduce the throttle to go up or down. PowerUp 3.0 has a flight time of up to 10 minutes and is perfect for the amateur or the veteran flyer with its crash-proof design and beginner and advanced controls.
PowerUp 3.0 is the brainchild of inventor Shai Goitein, who as a former pilot, witnessed firsthand how people of all ages fell in love with the magic of flight and was determined to create a state-of-the-art flight toy for all to enjoy.
In 2013, Goitein launched a Kickstarter page to fund PowerUp 3.0. The campaign was an overwhelming success, surpassing its $50,000 goal within eight hours, with interested backers from more than 100 different countries. The campaign ultimately generated over $1.2 million and became the top funded programs in the flight category on Kickstarter.
PowerUp 3.0 has garnered the attention of major international news outlets, including the Wall Street Journal, various technology websites including Tech Crunch, Mashable, and CNET, and positive feedback from aviation enthusiasts and R/C hobbyists.
PowerUp is the recipient of a multitude of awards including Popular Science's Toy of the Year at the New York Toy Fair and American Toy Association Best Hobby Product of the Year.