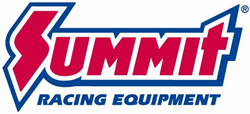 Tallmadge, OH (PRWEB) June 05, 2015
Owners of pickups, SUVs, crossovers, and other vehicles can retrofit a backup camera, dash cam, or lane change alert mirrors to their vehicles with K Source products now available at Summit Racing.
Backup Camera Kit
This kit features a high performance rear-mount CCD camera with a big 120° horizontal by 90° vertical angle of view that covers the rear blind spot on most vehicles. It has a replacement rearview mirror with an integral 3.5 inch LED color monitor so you can see what's behind you at a glance. The monitor disappears when the camera is not in use. Camera and power cables are included.
Dash Cam with GPS
Here's a technology that isn't OEM equipment on any vehicle as far as we know. This K Source Dash Cam Kit integrates a front facing camcorder into a replacement rearview mirror. What's more, the system has built-in GPS that can track and play back your route—handy in case of an accident or hit-and-run. The kit also has a rear-mount backup camera. Both cameras can be monitored from the 3.5 inch LED color screen built into the mirror. Cable and wiring are included.
ALERT-CAM Lane Change Alert Mirrors for GM Truck
If your Chevy/GMC pickup or SUV didn't come with factory lane change alert mirrors, you can rectify the omission with these K Source mirrors. The ALERT-CAM has a camera built into the OEM-style heated mirror to warn you of vehicles, motorcycles, or pedestrians approaching from the blind spot beyond the range of the side mirrors. A bright LED etched into the mirror gives you a visual warning accompanied by an audible beep. The ALERT-CAM mirrors feature a dual mirror lens and can be extended for better visibility when towing.
Applications

2007-13 Chevrolet Avalanche and Silverado, 2007-14 Tahoe and Suburban
2007-13 GMC Sierra, 2007-14 Yukon
2007-14 Cadillac Escalade
SEE THE K SOURCE BACKUP CAMERA, DASH CAM, AND LANE CHANGE MIRRORS AT SUMMIT RACING
Summit Racing Equipment
http://www.SummitRacing.com
1-800-230-3030