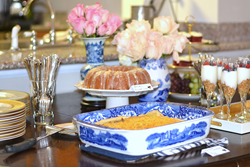 "Spode Blue Italian remains one of the quintessential classics in fine dinnerware. Still widely popular, the blue and white pattern looks fresh with today's tablescapes."-Jennifer Cook, co-founder of Peace, Love & Decorating
(PRWEB) June 08, 2015
Peace, Love & Decorating is excited to announce the addition of the historic Portmeirion Spode Blue Italian collection. This beautiful pattern has been in production for nearly two hundred years, originally inspired by the blue and white china popular in the 1700s. With a blend of Italian architecture and scenery, bordered by a Japanese design, the Portmeirion Spode Blue Italian adds an elegant look to the table. Adding a classic look to Peace, Love & Decorating, we have featured the beautiful dinnerware on our table display.
Josiah Spode was renown for perfecting under-glaze blue transfer printing in 1783. This development led to the launch of Spode's Blue Italian Range in 1816 and has remained in production ever since. The iconic blue and white English design displays an intricate Italian countryside scene. Portmeirion acquired Spode in 2009, determined to keep the British brand alive and went back to the Spode archives, remaining faithful to the potter's original design, and creating an even whiter and crisper background.
The blue and white contrast not only makes for a beautiful addition to tableware, it is one of the most desired color trends in 2015. House Beautiful features this color pallet by displaying dishware on their June 2015 front cover. Delving further into the topic, they asked top interior designers the color trends people need to know now. Susanna Salk, a design expert, answered, "I'm seeing a lot of deep rich blues with a glossy finish—often paired with white for a surprisingly modern twist on a classic." Embracing the blue and white movement, Southern Accents Style Guide has featured the Portmeirion Spode Blue Italian plate on their "Get The Look" spread. From formal dining to everyday use, Peace, Love & Decorating loves the Blue Italian in any setting. The Portmeirion Spode Blue Italian is where beauty meets function.
Peace, Love & Decorating, founded by Jennifer Cook and Jana Contardi, is online at http://www.peaceloveanddecorating.com or visit the retail brick-and-mortar store located just thirty minutes north of Atlanta. Offering the top boutique brands of handcrafted women's jewelry, home décor, designer lighting, vintage style bedding, luxury bath and body products, and Old World Christmas and holiday décor. The unique retail store is in a century-old building in the historic section of downtown Duluth at 3129 Main Street, Duluth, Georgia.