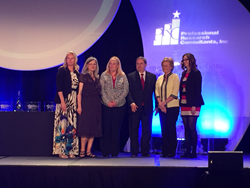 This year's Excellence in Healthcare Award recipients are raising the bar for hospitals and healthcare organizations across the country.
Omaha, Nebraska (PRWEB) June 05, 2015
The nation's top healthcare organizations were recognized for their outstanding achievements during the 16th annual PRC Excellence in Healthcare Conference hosted by national healthcare research leader Professional Research Consultants, Inc.
Nearly 300 healthcare professionals from across the United States attended the conference in Scottsdale, Arizona from May 31 to June 2, 2015.
"This year's Excellence in Healthcare Award recipients are raising the bar for hospitals and healthcare organizations across the country. The number of deserving organizations awarded today was impressive and we congratulate each recipient," said Joe M. Inguanzo, Ph.D., President and CEO of PRC.
"We are especially proud to recognize Methodist Health System with the distinguished President's Award and Sam Garber of Carilion Clinic with the Leading Light Award. The team at Methodist and Sam and his team at Carilion are committed to transforming the patient experience and making a measurable difference in healthcare."
2015 President's Award
PRC's top honor, the President's Award, is presented annually to one organization or individual that has made an extraordinary contribution to healthcare. The 2015 recipient Methodist Health System of Omaha, Nebraska is a progressive industry leader that has implemented measurable strategies aimed at improving experiences for its patients, employees and physicians. Thanks to their focus on excellence, Methodist has deftly handled an influx of additional patients from the region, all while providing an improved patient experience across the board.
Methodist joins esteemed past recipients: The Beryl Institute in Dallas/Fort Worth, Texas; The Studer Group in Gulf Breeze, Florida; Inova Health System in Falls Church, Virginia; and Parkview Health System in Fort Wayne, Indiana.
"Thank you very much for this prestigious award. We've had a 25 percent increase in our patient population across all three organizations. If we didn't have the teamwork that I talked about earlier today…we could have never done it without them," said Sue Korth, Ph.D., Vice President and Chief Operating Officer of Methodist Women's Hospital.
2015 Leading Light Award
For the ninth year, PRC presented a superior hospital employee with the Leading Light Award. This year's recipient is Sam Garber of Carilion Clinic in Roanoke, Virginia. This award recognizes his exemplary work in the hospital education process and consistent monitoring of patient experience survey results. Sam is a mentor and leader at his organization, and has consistently demonstrated his commitment to excellence at Carilion.
"Sir Isaac Newton said, 'If I have seen further... it is by standing upon the shoulders of giants,' and that rings true for me today. It's through my faith that I find the confidence and the ability to get through each day, my teams at PRC and Carilion and my beautiful wife, Julie, for showing me how to make use of empathy, for without it, we cannot reach the people we need to reach," said Garber.
For more information about the awards and PRC's Excellence in Healthcare Conference, please visit PRCConference.com, or view conversations from the conference and award presentations on Twitter @PRCExcellence and #PRCConference.
About PRC
Professional Research Consultants, Inc. brings excellence to healthcare through custom market research. It remains the largest privately held market research firm dedicated solely to the healthcare industry. In addition to being a certified vendor for government-mandated CAHPS surveys, PRC provides custom research services that measure community perceptions, brand positions, patient experience, physician alignment and engagement and employee engagement. PRC also conducts community health needs assessments in accordance with IRS guidelines. PRC was founded in 1980 and is headquartered in Omaha, Nebraska.