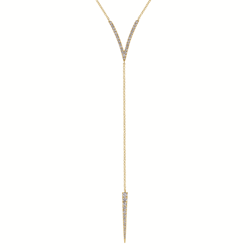 New York,10036 (PRWEB) June 05, 2015
Fall will be gleaming with warm hues thanks to Gabriel & Co.'s brand new styles of yellow gold jewelry making their debut at this year's JCK Show in Las Vegas. The 25 year-old-brand will launch edgy, contemporary fine jewelry looks in a series of capsule collections curated exclusively by Global Style Director Hal Rubenstein. Handmade in 14K yellow gold with diamonds and colored gemstones, Gabriel & Co.'s Fall 2015 collections bring exciting fashion-forward looks at accessible retail prices.
Fall 2015 marks the first time Gabriel & Co. has created yellow gold earrings and necklaces, and the contrasting bold and subtle shapes are carefully constructed to augment the looks of today's most discerning consumers. The new statement-sized "Cascade Chokers" boast an asymmetrical trail of diamonds that gracefully outline the female silhouette. For those seeking casual elegance, Gabriel's adjustable "Y-Knot" necklaces feature clean lines forming the shape of the letter "Y," made to fall in perfectly in place while accenting the body's hidden contours. Also brand new for fall are never-before-seen styles of earrings including large diamond or colored gemstone encrusted ear cuffs and ear climbers that "climb" the length of the ear; and delicate ear jackets featuring "peek-a-boo" diamonds or colored gemstones.
The new Fall 2015 styles are all handmade in 14K yellow gold with diamonds and colored gemstones. They will also be featured in Gabriel & Co.'s new and existing collections including Aurora Gold, Lusso, Kaslique, Stellare, Souviens and Amavida, which debuted to an unprecedented response. All Gabriel & Co. jewelry is designed with the idea that women should wear their best jewelry daily and all jewelry is meant to be transitioned seamlessly from daytime to evening looks.
"Fine Jewelry Everyday" states Global Style Director, Hal Rubenstein.
About Gabriel & Co.:
Gabriel & Co. is proud to celebrate 25 years in making hand crafted fine jewelry with timeless designs and unparalleled quality. Founded in 1989 in Manhattan by brothers Jack and Dominick Gabriel, the aptly named Gabriel & Co. has grown into a world-renowned brand amongst consumers and within the fine jewelry industry. Most recently, the brand was voted the most preferred and the most profitable brand by both JCK Magazine's Retailer Survey and INSTORE magazine's annual Big Survey. For more information, visit http://www.GabrielNY.com.