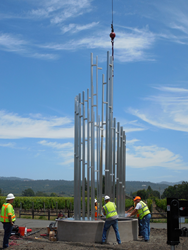 It's a stunning addition to the amazing views on both sides of Highway 29, but also does a tremendous job of illustrating our mission of crafting fine wines as works of art that express their original provenance. Senior Winemaker, Trevor Durling
Rutherford, CA (PRWEB) June 23, 2015
The concept of "Provenance" (French for "origin" or "source") reflects the winery's dedication to seeking out the finest vineyard sources in Napa Valley and crafting wines that express their distinctive origin. It also has strong meaning in the art world as the record of a work's ownership and guarantee of authenticity. In fact, the winery was founded with the goal of producing fine wines that are authentic works of art.
The aluminum sculpture 'Spirale' with its graduated height, symbolizes the passage of time that is necessary to cultivating both great wine and great art as well as the layers and depths of historical investigation and understanding essential to the value and celebration of each. The more we know about the source of wine and art, the better we can appreciate them – a concept that Huether conveys through the towering helix-shaped sculpture. 'Spirale' is fabricated with 32 gleaming aluminum columns arranged in a spiral form and measures approximately 24 feet in height, with a diameter of nine feet.
"I'm so excited about this new art installation," said Trevor Durling, Senior Winemaker, Provenance Vineyards. "It's a stunning addition to the amazing views on both sides of Highway 29, and also does a tremendous job of illustrating our mission of crafting fine wines as works of art that express their original provenance."
The new sculpture complements the winery's quintessential red building and completes the winery's full redesign of its outdoor lounge space, which includes beautiful drought-resistant landscaping, a multi-level hardscape, fire pit and intimate lounge areas where visitors can enjoy a glass of the celebrated Provenance Vineyards™ celebrated Cabernet Sauvignon or Sauvignon Blanc.
With 3.3 million annual visitors in 2014 (Courtesy of Visit Napa Valley) the Napa Valley continues to grow as a major tourist destination. In recent years the number of art-focused consumer experiences at leading wineries has also been increasing throughout the valley. With the addition of this major art installation by artist Gordon Huether, Provenance Vineyards is joining this exciting art and wine movement.
About Gordon Huether Studio
Gordon Huether has mastered the challenge of creating art in a multitude of environments and mediums. The scale of his work ranges from large architectural installations for public commissions to small intimate works of art for private collections and residences.
Since founding Gordon Huether Studio in Napa, California in 1987, Huether has worked extensively with glass on a large scale and has also created works incorporating salvaged materials, bronze, aluminum, steel, light, water and neon. All work is fabricated at Gordon Huether Studio by artisans who are internationally recognized for their creativity, technical ability and craftsmanship.
Huether's talent for intuitively reacting to the materials and the space they occupy, whether indoors or out, has led to the successful completion of over 60 public art projects and more than 160 private art commissions.
In 2009, Huether was the recipient of several awards, including the Americans for the Arts Public Art Network (PAN) Best Public Artwork in the US Award for the "Gotta Go" art installation at the Jacksonville International Airport.
For more information, please visit http://www.gordonhuether.com.
About Provenance Vineyards
Provenance Vineyards is located on Highway 29 in Rutherford, CA. The winery produced its first Rutherford Cabernet Sauvignon in 1999. Today it prides itself on producing some of the top Cabernet Sauvignon, Merlot and Sauvignon Blanc in Napa Valley. The winemaking team seeks out the highest quality grapes in the Napa Valley, forging enduring relationships with the region's top producers. Provenance Vineyards uses the finest winemaking traditions to extract elegant, powerful wines that express their unique sourcing.
For more information about Provenance Vineyards, visit http://www.provenancevineyards.com.