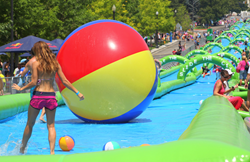 We are more prepared and have made significant adjustments so that this year will be epic
BOISE, ID (PRWEB) June 09, 2015
Winter is finally over and Slide the City™ is bringing their thousand-foot slide back to Boise. But this time they have a better street, a better slide, and a better date. Slide the City™ will be taking over Americana Boulevard this Independence Day starting at 11 a.m. and ending just in time for the fireworks show at 10:30 p.m.
"What's more American than a slip and slide?" said event organizer TR Gourley, "Imagine yourself sliding down a 1,000 ft slip and slide on Independence Day!"
Last year, Protest Road was transformed into a giant water party. Four Thousand Idahoans slipped, splashed and slid down three city blocks, passing local vendors and enjoying the music provided by a local radio station. Slide the City™ has been working closely with the city of Boise to ensure this year is better than ever.
"The Boise slide last year was only our second event. By July 4th we will have successfully completed 30 Slide the City™ events. We are more prepared and have made significant adjustments so that this year will be epic," said Gourley.
The water system has been redesigned to allow sliders a smooth and speedy ride down all 1,000 slippery feet. An extra lane has been added to the new, wider slide so adventure seekers can get through the line much faster. Also, event directors and city officials have worked together to find a steeper street better suited for this giant slide.
Slide the City™ is a for-profit company that donates a portion of the proceeds from each event to a local charity. They are excited to be partnering with Ronald McDonald House Charities of Idaho (http://www.rmhidaho.org) for the second year in a row.
Anyone five years of age or older are welcome to slide this Independence Day. Visit http://www.slidethecity.com/events/boise/ for more information about Slide the City™ in Boise or check out what fans have to share on Facebook at http://www.facebook.com/slidethecity,
About Slide the City™
The first event of its kind, Slide the City™ has seen massive growth since it started in 2014. This original concept went viral when the video was released, and this year promises to be bigger, better and wetter. Slide the City™ is on track to produce more than 100 events in the US and Canada and has entered several other countries around the world. Slide the City™ is a family-friendly event bringing 1,000 feet of padded vinyl onto city streets. This giant three-lane slide travels around the country so people from coast-to-coast can have the slide of their lives!